Time to get to know 3 more Tritons a little better:
Jeff Wei: returned from his Hawaiian adventure, like me you were probably jealous of his escaping the early days fo covid for this paradise and want to know more.

Nick Mawdsley whose dry humour livens many a WhatsApp chat. Doesn't contribute much but drops his sarcasm bombs with aplomb

Sam Holyoake: long term triathlete and resident of Shek O/BWB. What does she do out there in the boondocks?
Want to learn more about them? Then read on…
Cae: So guys, you know the score
Nick: Damn I thought you'd forgotten about us. You first asked us months ago
Cae: "Nowhere to run to baby… nowhere to hide"
(NIck appears to find somewhere run and hide as he leaves the room suddenly)
I hope people don't mind, but with Grace having moved to Singapore I included Sam instead
Sam: Hi guys! Great to be here, but eek… kinda scared
Cae: So, let's get the ball rolling, with the first question how are you keeping sane and how are you keeping fit during these challenging times? Has the training suffered? Sorry that's a few questions
Jeff: To be honest, I'm not keeping fit at all, way fatter than I used to be. But I try to do non-structured stuff to keep it entertaining, like trail running and Zwift races.
Cae: Can't believe you're remotely fat Jeff (although I don't think I've seen you face to face for over a year until this virtual chat). Sam?
Sam: Yup basically zero structured training. I've been doing some indoor work on the trainer, hiking a bit and have just started running again (which is painful), but my training mojo has been replaced by gin & chocolate in the evening, while in front of the tv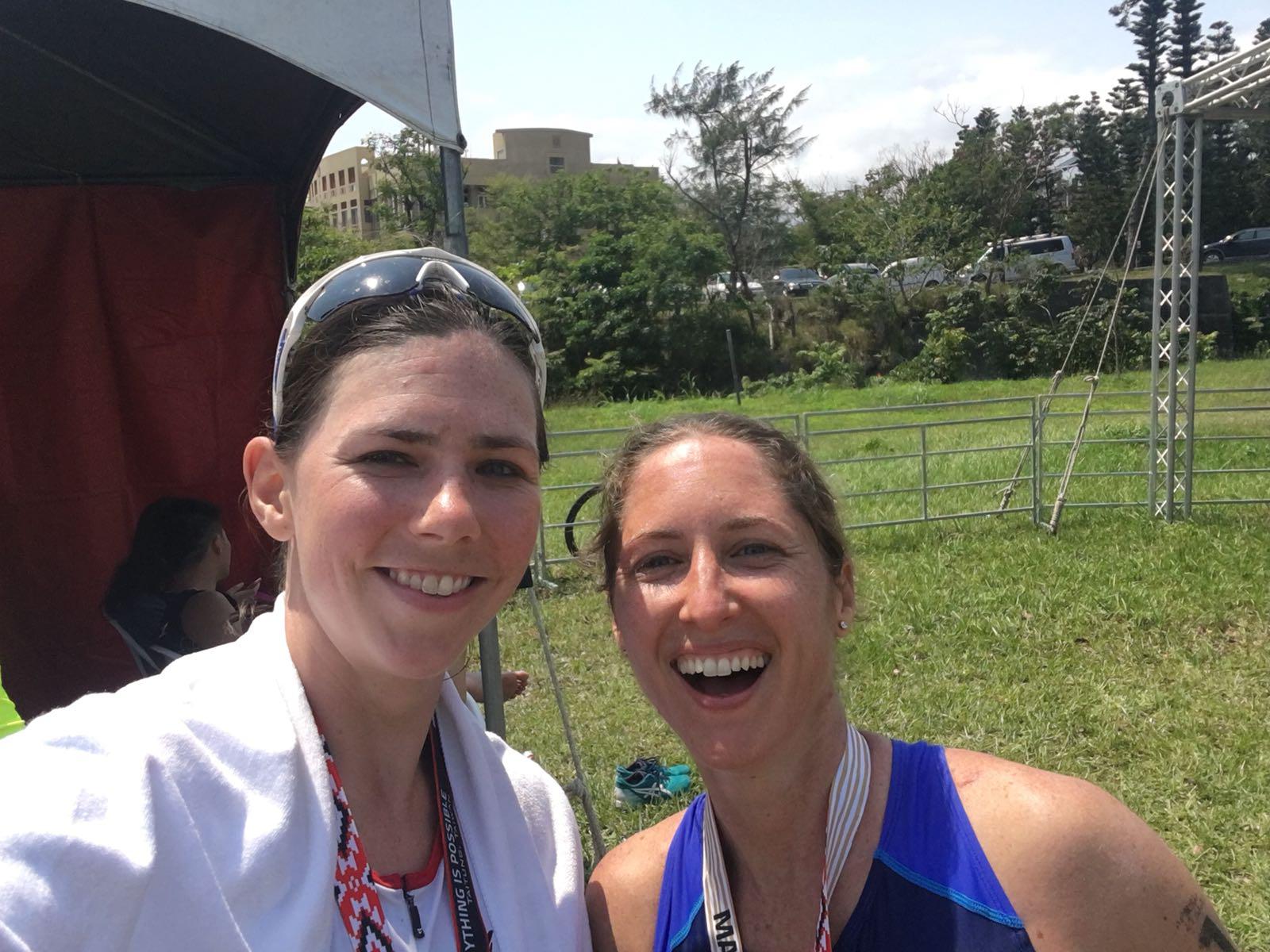 Cae: Gin… "mother's ruin"… Gin and chocolate sounds like the Gu energy gel flavour no one asked for. Are you using Zwift too?
Sam: Yes that could be a great gel flavour; actually my trainer is very basic so cannot use Zwift (that is my next tri upgrade but not urgent)
Cae: so if anyone has a smart trainer they don't need I think we have a potential buyer in Sam. So Jeff… trail running? I actually prefer the speed and consistency in running on sealed surfaces. What rings your bells with trail running? Are you planning on changing sport?
Jeff: I find it super fun with varying terrains and you have to concentrate otherwise you'll hurt yourself. For me this is more 'off season' type stuff I still enjoy Triathlon more, so you'll not lose me!
Cae: It's been a very long "off-season"; I'm not seeing you guys in open water. We have no pools and no beach Swimlab sessions, but there is still lots of fun and training to be had out there doing intervals along the shark nets.
Sam: Definitely not a fan of cold water. I feel a failure as I watch you guys intently and read all the WhatsApp for OWHK...... I want to swim again though so I will work up the courage. Just did a big house move and so now that is done I can focus on swim bike run again.....I hope
Jeff: OWS is ok... is part of training for me. It's super cold now and not being able to shower (even if it's a cold shower) kills the rest of motivation. I also HATE coming back into Temple beach.... I always feel like I'm going to cut myself on the rocks
Cae: The sub-population of triathletes who swim because they have to rather than because they want to is certainly the majority. Temple beach is quite a fun entry and exit point; its like swimming through a forest of seaweed… pretty wild. Swimming back to shore is pretty easy because your face is underwater; it's swimming out, plunging into the unknown shallows that's tough.
Jeff: Either way.... it sucks..... swimming from there. I want my IHP back!
All: Don't we all?
Cae: IHP might still be pretty cold, but I'd take the pain for the pleasure. What's the coldest IM/70.3 you'd consider? I'd like to do Wales or Ireland, but racing in sub-16 water takes cajones
Sam: I have no cajones, nor lady cajones, so definitely warm water races for me.
Jeff: Coldest one I did was world champs in South Africa. I think the water temp must have been 16/17-ish; bike and run were alright. But then it started pouring with crazy wind when we finished; that was freaking freezing.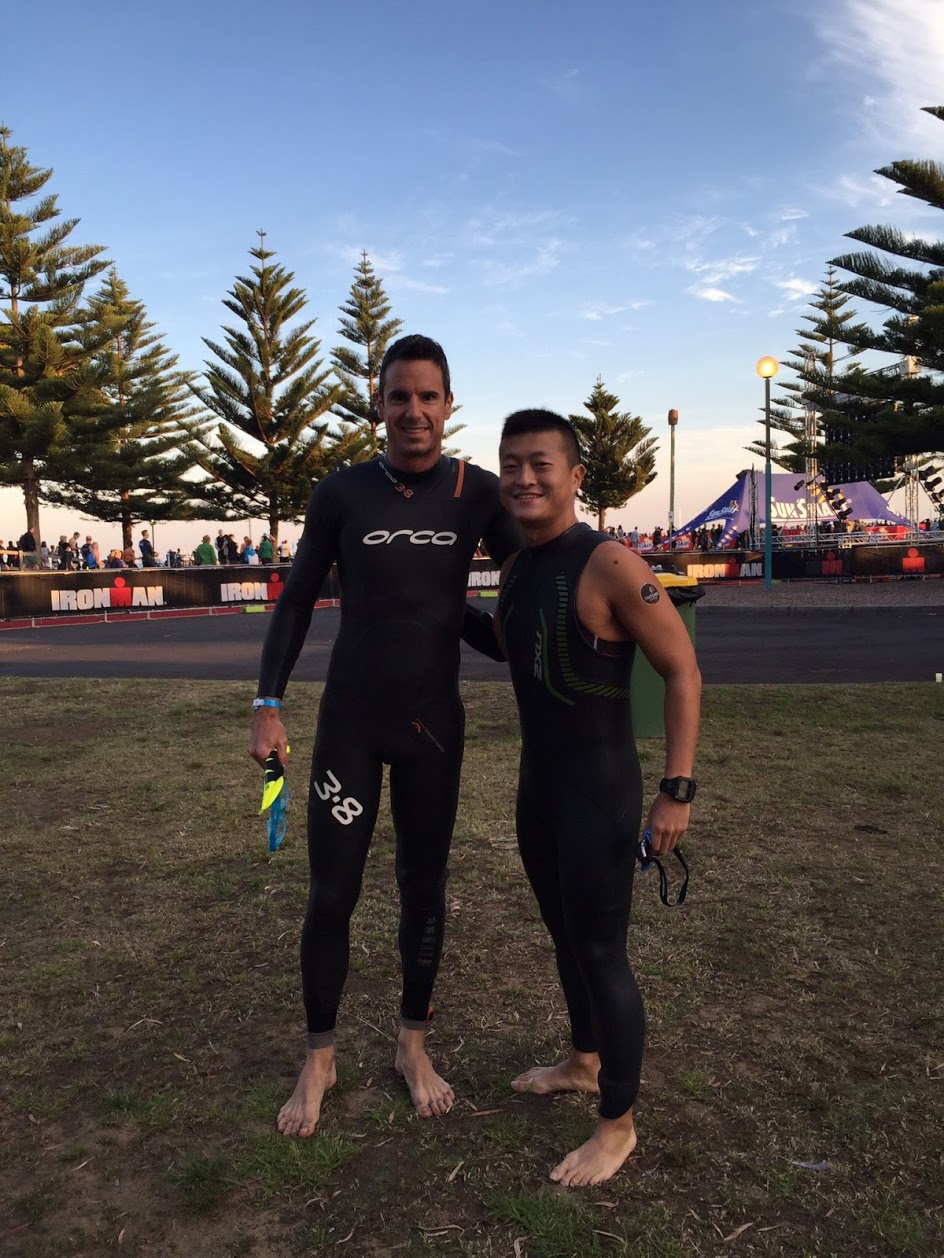 Cae: Cold is just not enjoyable. But neither is hot. You forget how crushing racing in heat and humidity is
Jeff: Yep.... hate heat and humidity too.... Vietnam and Langkawi
Sam: Oh yes! South Africa World Championships… actually I really enjoyed that swim and race. I actually haven't done a crushingly hot race; I thought Taiwan 2018 was perfect weather
(Door slams in background)
Nick: Sorry I had to leave for a while guys, busy day with work and family. Any coffee left?
Cae: The good thing about virtual coffee is that there's always some left and it's as good or bad as you want or deserve it to be.
Nick: Let me catch up on your conversation: Regarding well-being and training, I'm just about holding it together. I do a couple of spin classes per week, maybe ride or run on the weekend, and a couple of press ups before I shower in the morning. Should be enough for a 70.3!
Covid hasn't really impacted my fitness, it was the second kid that messed everything up. My man cave got turned into a nursery and the missus got a new job with an early start so I had to be on morning duties. So when I hear Jeff whinging about his training going down the drain because of Covid, I just think "BS". For a single guy with no kids, he is just plain lazy.
Jeff: LOL! Great to have you here Nick!
Sam: I bet you wouldn't say that to Katya
Nick: Good job she doesn't know the Tritons website address... wait I didn't say that... stop recording! This is off the record, right?
Yep I haven't done any OWS for a long time, in fact I haven't been swimming at all since January last year, other than a few laps of the kiddies pool at the football club. OWS definitely appeals to me, much more than the pool with Fen pushing me, but time is not on my side. Anyway the morning push ups should keep me swim fit for when I eventually return.
And, I would definitely be up for Ironman Wales. I think the cold swim would be the least of our worries. The hilly bike and run would be the killer. Anyway, let me know when you sign up. It would be good to beat you on your own turf, boyo!
And yes I agree you do quickly forget how crushing a hot humid race can be but at the same time you can't forget how satisfying a race like that can be when you crush one of your teammates in the last half of the run after he has tried to sabotage your race by knocking over all the water cups in front of you at every aid station.
Cae: Yes, that was me, but I remember stealing sponges but not knocking over water. You stole my lunch that day anyway. I made the mistake of thinking I could match your pace on the run.
Nick: Sorry was it the sponges? I can't remember. It was all a blur. Anyway, if you hadn't taken long enough to make a cup of tea in transition you would have beaten me fair and square.
Cae: So if covid ended tomorrow and it was not a question of timing (and assuming you were race fit: not unrealistically Daniela or Frodo fit, but fit enough): what race would you do?
And another for Jeff: when you went to Hawaii you incurred envy of many Tritons
If you could describe your experience in a video montage from a 1980s movie with a big hair rock soundtrack, what video clips would we see?
Or is an 80s pop culture reference not hitting home?
Nick: Wales! Wales! Let's do it!
Sam: Danang and I want to do a race in Australia; friends have moved to Noosa so I'd find something near them so i could have a holiday after; and I'm looking forward to the answer to this
Cae: I'd go back to Langkawi... sorry this isn't about me is it? What am I saying? I only do this to talk about me under the facade of talking about you…
Jeff: I would do Taiwan 70.3 - I have raced it a number of times and always have had good fun doing it. Great organisation, good food and good course.
And the 80s pop culture is not hitting home unfortunately. The experience was generally quite enjoyable, plenty of places to run and ride and no cars are trying to kill you when you are on the road. Rather than needing to wake up at 5 am to avoid cars, I'd usually go ride after lunch and had no problems on the road.
Swimming was pretty good as well - just that way too many people on the beach paddling and blocking my swim path... but all in all pretty good and a great place to train.
Cae: I'm saddened we'll never visualise Jeff's Oahu training in a Rocky III type montage, but for those of you who get the reference, here's a beaut: an"80s movie montage of montages"?
And while we're waiting for Jeff to watch the montage, recruit a director and start storyboarding his Hawaiian experience, let's hit the standard question: how did you start triathlon?
Sam: For me, it was here in Hong Kong when I was 13 years old! In 1984 I did the first HK Tri... I still have my t-shirt; I will find and send a pic. I also did the swim of the first HK biathlon that year. I moved house a few weeks ago and found all my tri t-shirts from back in the day, during the clothing sort out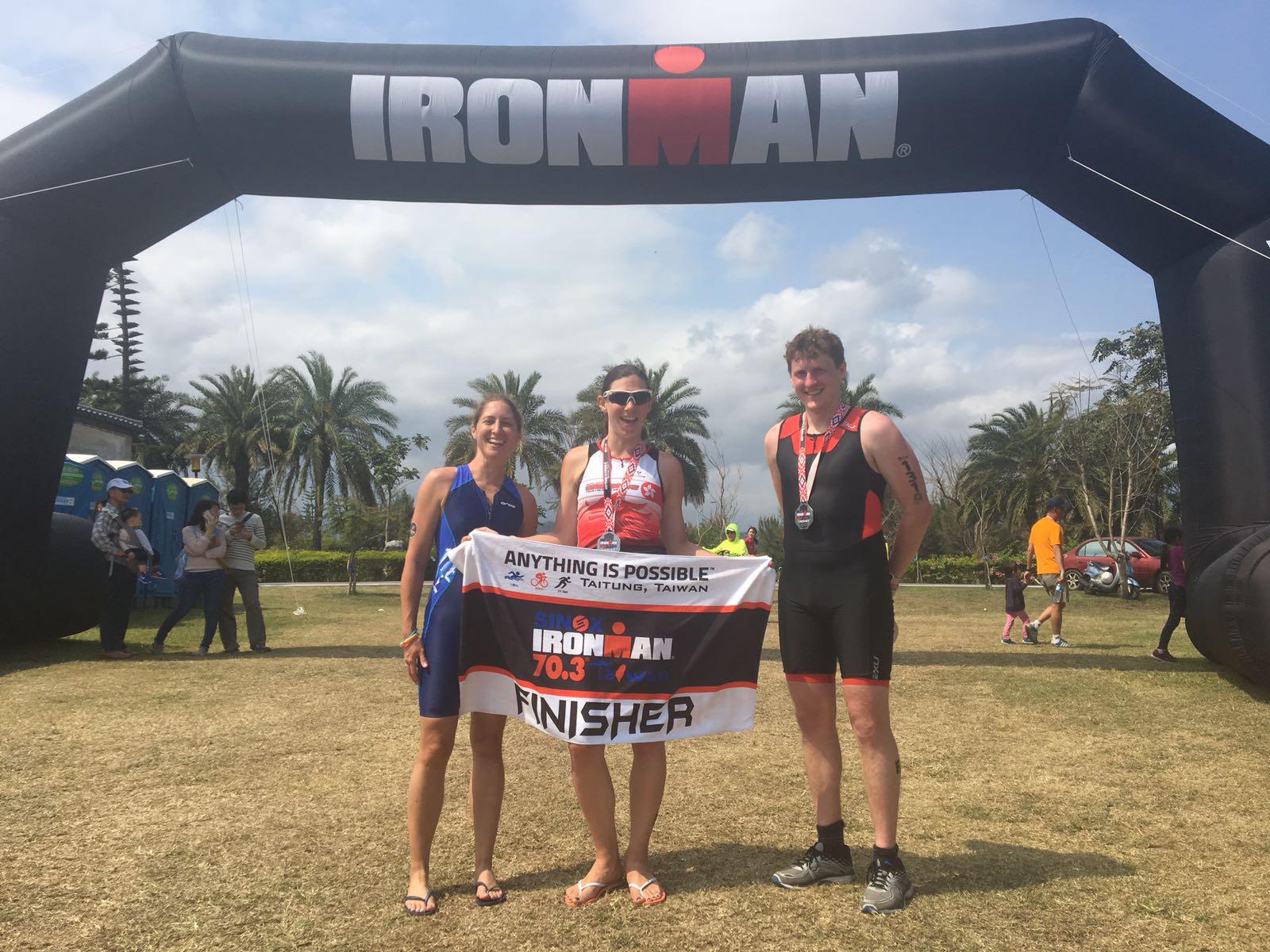 Cae: My tri t-shirts are biohazards; I left one at the Santa run once. Jerry and Steph actually washed it and returned it... it still smelt like Bigfoot's balls…
Nick: ooff! Mine too. I have to keep them in Ziplock bags to avoid contamination with other clothes.
So how did I get into tri? It was my colleague at the time Stuart Wong who was to blame for getting me into triathlon. We had been doing a bit of trail running and did a few ultramarathons together, "Racing The Planet" in Nepal in 2011 and "Action Asia Mongolia" in 2012. After that, we (Stuart really) were looking for a new challenge and he suggested doing an Ironman. Before I had even Googled what it was, Stuart had me in Bull Bike parting me with my hard earned cash buying a brand new TT bike and then bundling me into his van for a ride around Disney. I am a massive procrastinator so credit to Stuart for keeping the momentum going and getting me kitted out and on the road (or he just liked to see me spending money). After a couple of months of training, we did our first race, the HK ITU Olympic at Disney in 2012 and then a month later the Laguna Phuket race. We then signed up for our first 70.3 in Cebu in 2013 which is where I met a lot of the Tritons crew and so decided to join the club. That's when the addiction really kicked in and the rest of my life took a back seat.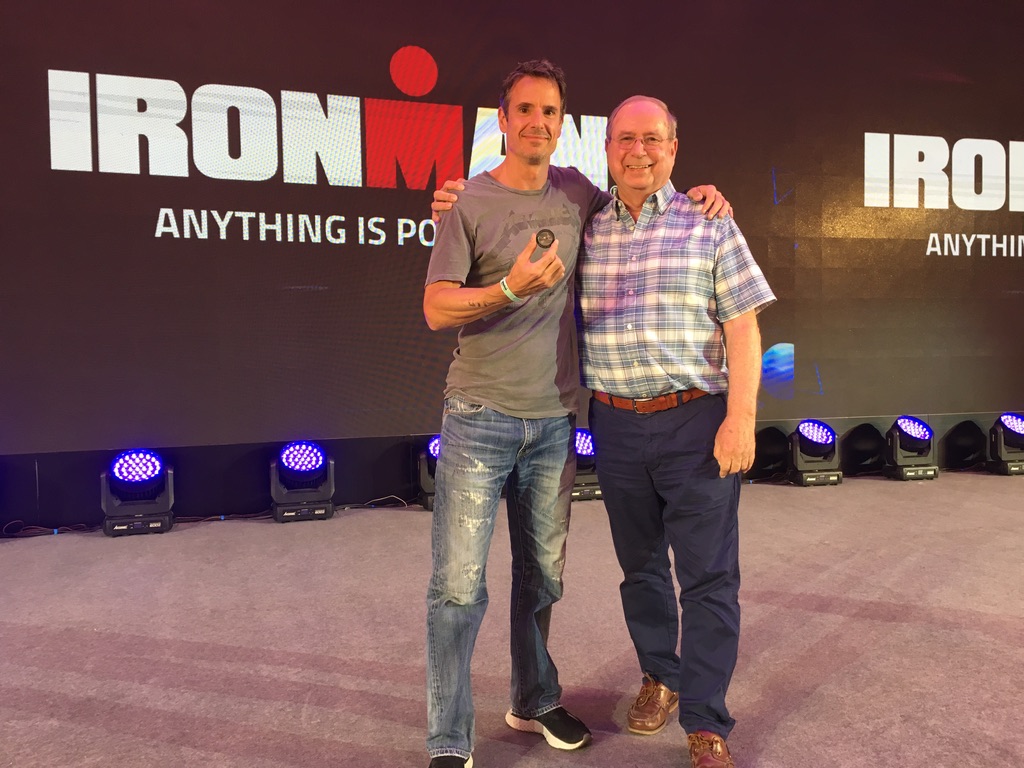 Jeff: Years ago before triathlon, I was a huge smoker and drinker (not that I could drink a lot) - like 1 pack a day kinda guy and I liked to get absolutely smashed to destress. So one night, I was pretty dead drunk and holding a cig between my fingers I started binge watching YouTube.
Out of the blue, an IM video showed up. It was the video of Scott Goodfellow - in short, the video started with " there are only 2 types of people in this world, those who say you can't and those who say you can" then the music etc etc and then at the end was a montage of people crossing the finish line with a huge smile on their face and I thought to myself - "hm....they seem happy, i want to be that happy too"
So that night I proceeded to drink more and smoke more but watched almost all IM videos I could find on YouTube.
The next Monday I started running on the treadmill for 15 mins and then the next day 20 mins and built from there.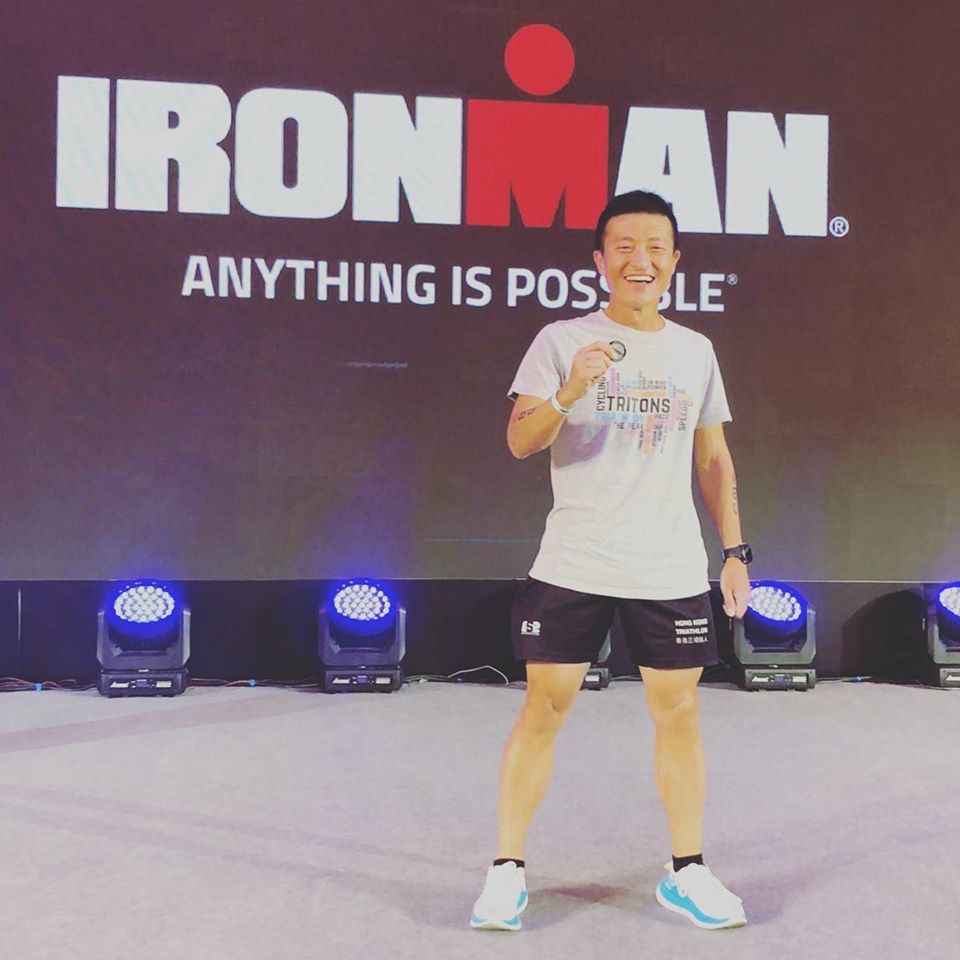 Cae: Ok Jeff we have a question: what's on your headphones before a race? We've all seen you looking intimidatingly "in the zone"… and to all: what's your soundtrack when you race? What song in your head keeps you going? When I swam English Channel it was "Don't stop me now" by Queen. When I had to push hard between 12th-13th hours the song was on hard loop in my head
Sam: Oh good question... I don't think I have a song, just a km countdown
Nick: On the bike, it is definitely "The Wheels on the Bus Go Round and Round". In the water, it's "Five Little Ducks Went Swimming One Day".... it is amazing how catchy those tunes are when you are in the zone.
Jeff: I listen to Legendary – Welshly Arms
Cae: I had to look it up ("ok boomer") but it doesn't sound as intense as I'd expected... I don't know what I'd expected... drum and bass maybe...
Does this get you over the line Jeff?
Jeff: it just gets me pumped for the swim - the rest of the race... I'm just chasing what's in front of me
Cae: So I have a question from Tritons… coaches: tell me about your coaches... what makes a good relationship. Jeff Jacob as punishing as rumour has it?
Jeff: My first coach was Mike and then later Jacob and of course, for swim it has always been Fen and AM.
Mike coached me to my 1st IM in Busselton. It was a great experience especially at the time, there were a couple other Tritons were also getting coached by him - so we would go out to TC doing similar sets and accompany each other. Mike was very patient and good with structured programs but less 'hellish' so to speak.
Nick: Mike coached me in 2014 and got me in great shape for IM Cairns and IM Busselton that year. At the start, he asked me my goals and my first one was to beat him in a race so in that respect Mike failed. I think if they added an extra 5km on to Busso run, I would have beaten him. Anyway my second goal of beating fellow Tritons Jeff, Rob O, Marc A and Jerry in Busso was achieved. In all seriousness though, Mike taught me the benefit of a well constructed training plan and putting in the effort. I think the role of a coach is making you accountable. Mike is such a nice guy that you don't want to let him down by missing any of his workouts.
Jacob seems like the other end of the scale... if you don't do the work, he will kill you. Both work well. After Busso, I couldn't commit to full time coached training... and that's when Jeff started beating me.
Jeff: With Jacob my first meeting went like this.
Jacob: What's your goal?

Jeff: Kona

Jacob: ok - you give me the time, I'll get you there. But it won't be easy and you will suffer

Jeff: ok

Jacob: do all the sets that I give you. even if you break, continue and don't quit. if needs be lower your watts but complete the set. I don't want to waste your time, and i don't want you to waste mine. you give me 100%, and I get you to Kona

Jeff: ok.
And the next 12-18 months was pretty brutal… but I get stronger and faster. Out of 10 non-recovery workouts that he gives me I break during 8 of them, the rest are those I get close to passing out after i complete them
Sam: Kudos to you Jeff that you put the effort into Jacob's training... that is what makes the difference
Jacob was my coach for Sri Lanka and he helped me to be in the best running shape of my life (I even managed to run with you and Mandy one day off a Disney ride Cae... which has been my highlight run ever); unfortunately I didn't listen to what Jacob told me to do on the bike in Sri Lanka as I was feeling so good and got cocky and then I totally blew up in the heat: my fault for not listening to my coach! I learnt a painful lesson that day but still managed to squeeze qualification to Nice WCs which was because of the place Jacob got me.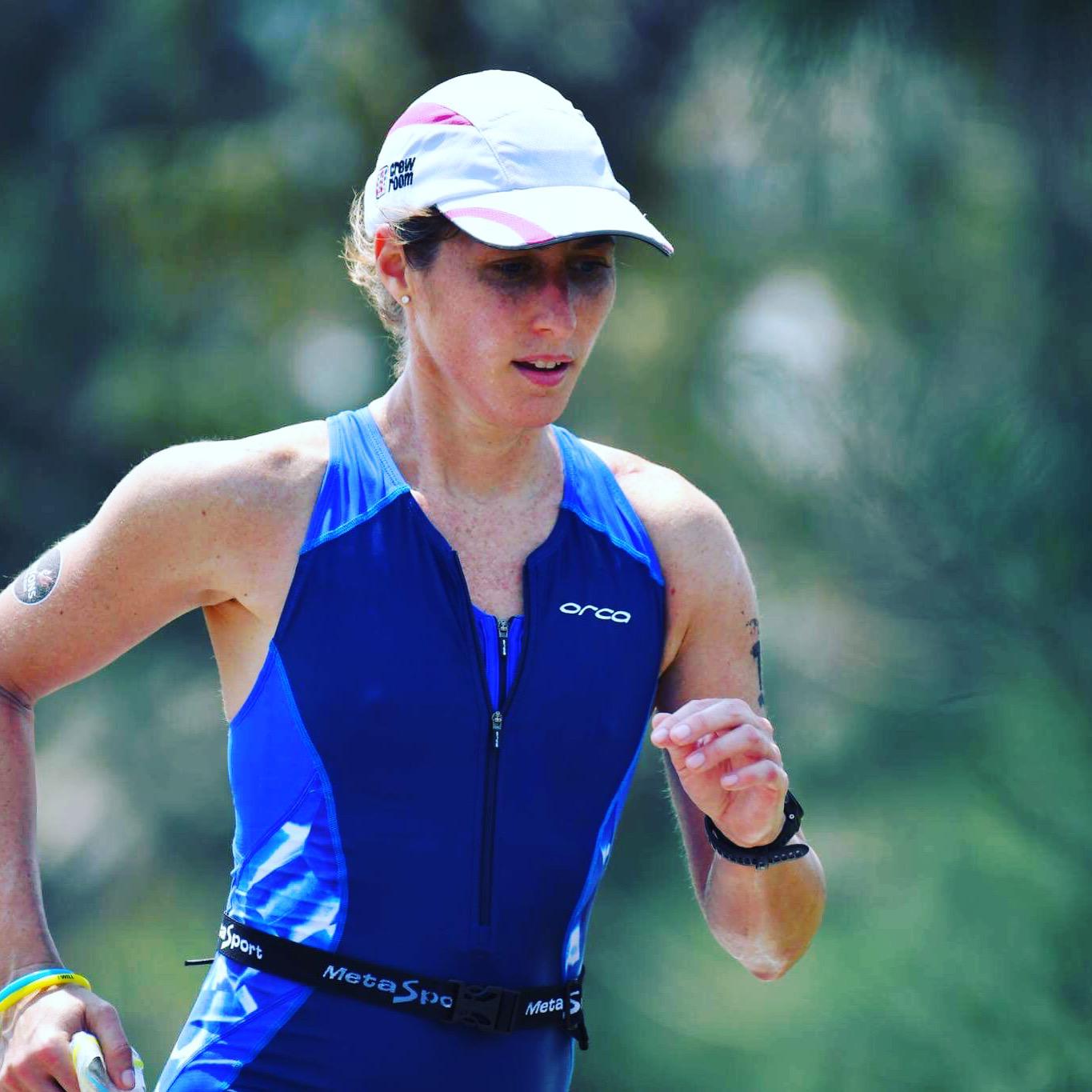 I do think he doesn't quite understand the limitations of a 48yr female body after 2 children but he was super patient and supportive despite pushing hard.
Nick: Can I answer a question from the last "Coffee with Cae" about what race rules we would change if we could?
There should be a maximum training time per week of say 6 hours to create a level playing field, or just a separate Kona qualifying category for guys who cannot put in the hours. Another idea might be to standardise permitted race gear. For example, no disc wheels or a maximum rim depth, as they are so freaking expensive and give those that can afford them a big advantage. Same goes for sperm-shaped aero helmets. I can't keep dipping into my dwindling kids' education fund every time some new tech comes out.
Cae: Nice rules… So Jeff did you miss us when you were in Hawaii? What did you miss about Tritons?
Jeff: Not really. But I like the camaraderie during training and racing.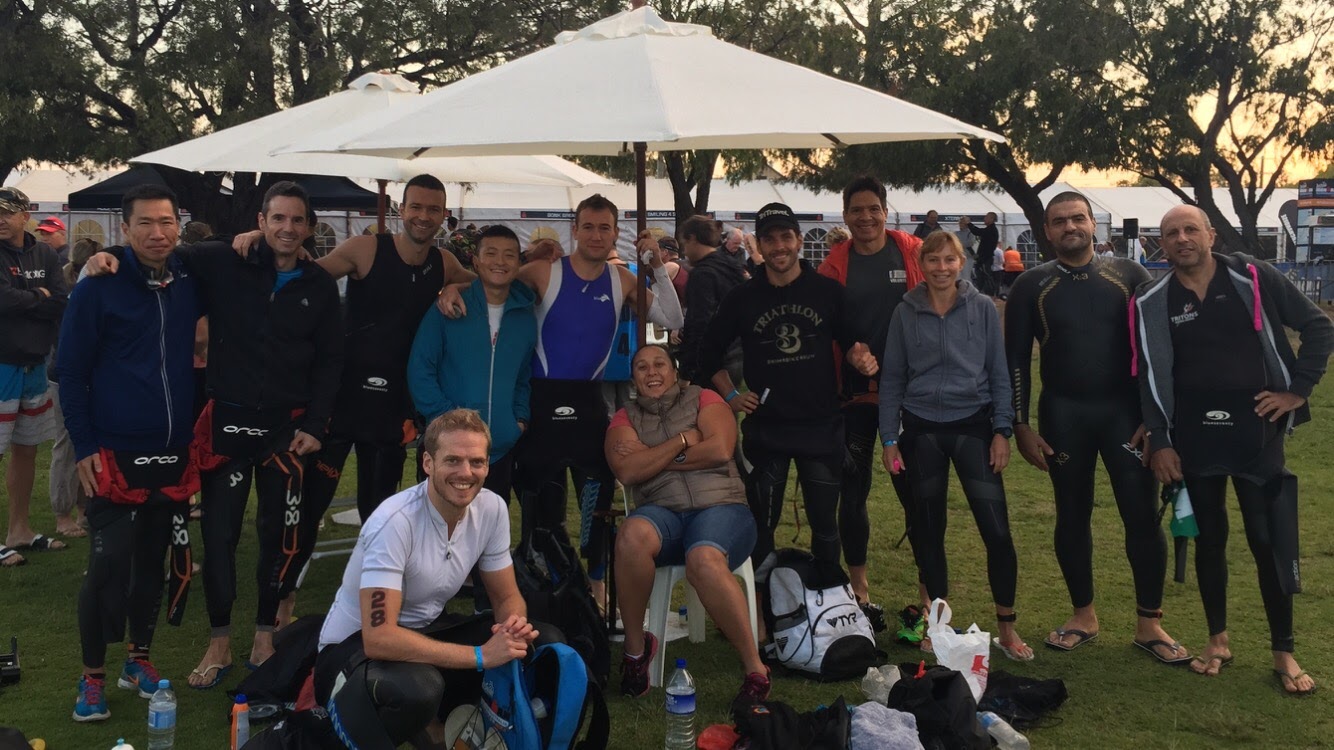 Cae: Ouch! Way to sugarcoat your reply Jeff... we missed you. For what it's worth. We were going to welcome you back with balloons… glad we didn't now
Jeff: Actually I'll take it back: I did miss group swimming.
Cae: So thanks guys, I've had a great afternoon. This wasn't it, but I have had a great afternoon!
Join us next time when we'll be sipping coffee and chatting with Mark Lee, Toby and Ruth (if they'll play ball).