2017 has been a great year for me (in triathlon), either because of less competition in local races or, as I would like to believe, I have gotten much faster and stronger, I started to podium in and even win local races. To top off a great year, an IM world championship qualification would be a great finish.
While I'm not a big fan of racing in China (due to the pollution), racing with the Tritons will always be a great experience, the pre- race warm ups, chit-chats, encouragements during a race is a blessing and always puts a smile on my face…. even when I'm cramping. So Xiamen it is!
Although not planned, Tritons showed up in force with Coach Mike, Rob K, Rich Brooks, Federico, Ulrich, Ruth, Mary, Stu, Supha, Andres, Anne, Mandy and Margaret. Our club co-founder, Fen, also showed up to act as club cheer leader and photographer!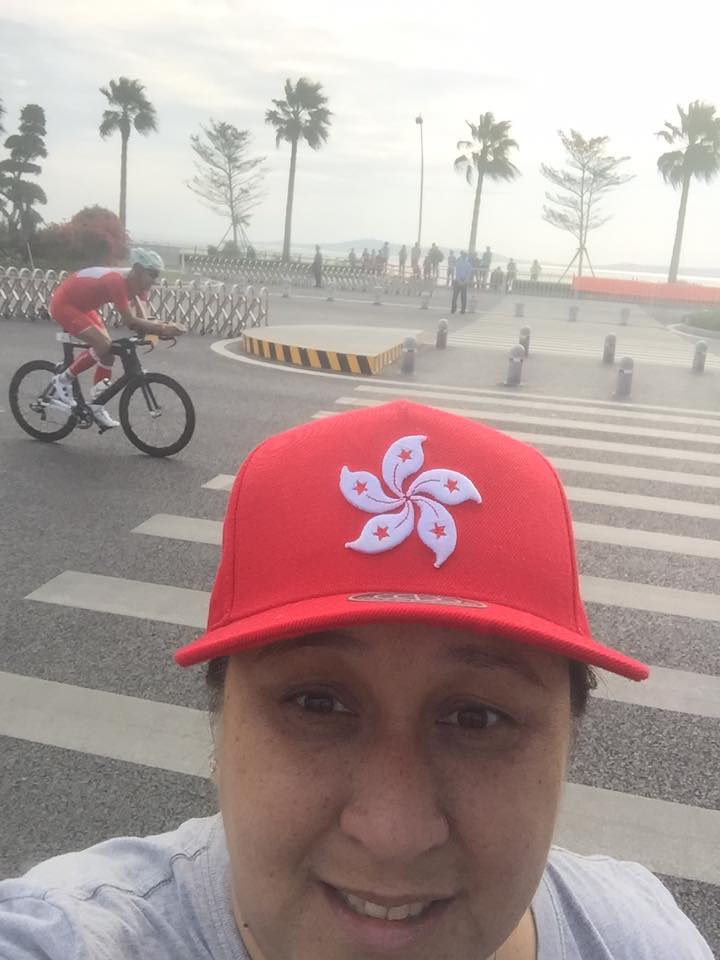 The Xiamen 70.3's course is quite flat. Swim is off the coast, point-to-point with current on the side of the swimmers, bike was a 2 loop flat course and run was a 2.7 loop flat course. Going into it, I know it will be fast and competitive, but little did I know how fast one has to be to get into Top 10. One thing to note is that the transition area is very very very long…… which is tolerable when you are a AWA which allows one to rack bikes near the exit. It is like a Marco Polo Diamond status for Cathay.
Most of us landed on Friday and tested the course on Saturday. The test swim was ok, but sea was quite choppy which led us to believe that the swim would be quite difficult on race day….. which actually is great for us SLabbers, the harder the swim, the better for us. Bike was flat with some sections with strong tail wind and some sections with strong head wind, but that's okay, that's just HAECO on a normal Saturday morning training ride.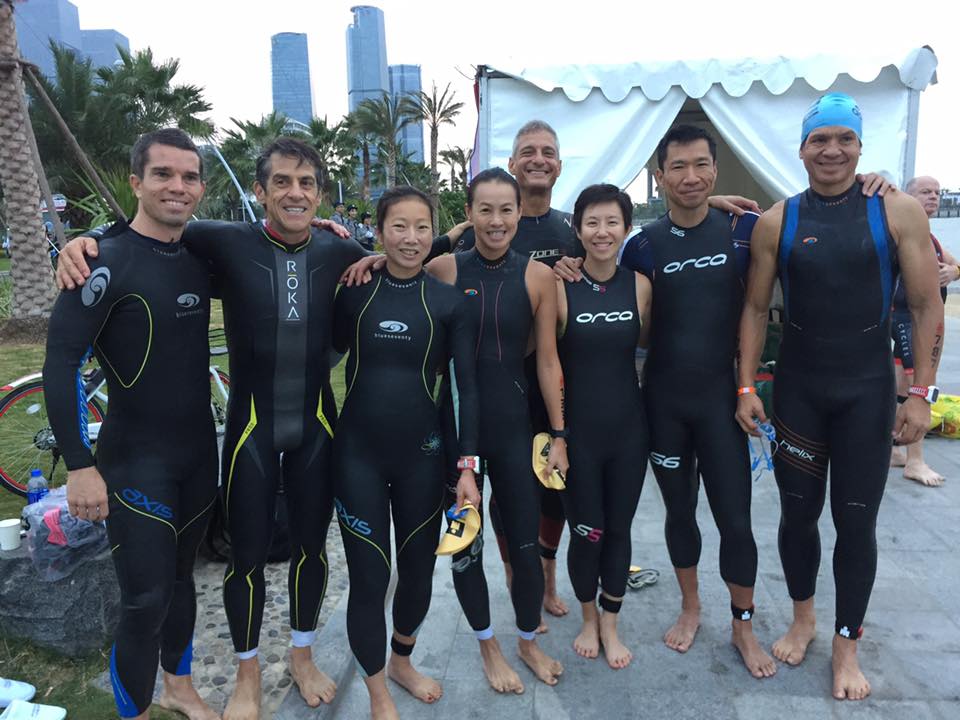 Race morning - Swim was a rolling start with 2 on the go every 5 seconds. Fen / AM you should be proud that most if not all of the SLabbers came in Top 10 out of the water, with Andres the 6th fastest age grouper out of the water and the ladies topping their own AGs! With the help of the current, wetsuit as well as the Wed/Fri endurance sessions, I was able to break my PB by 5 mins and clocked my swim at 25.01.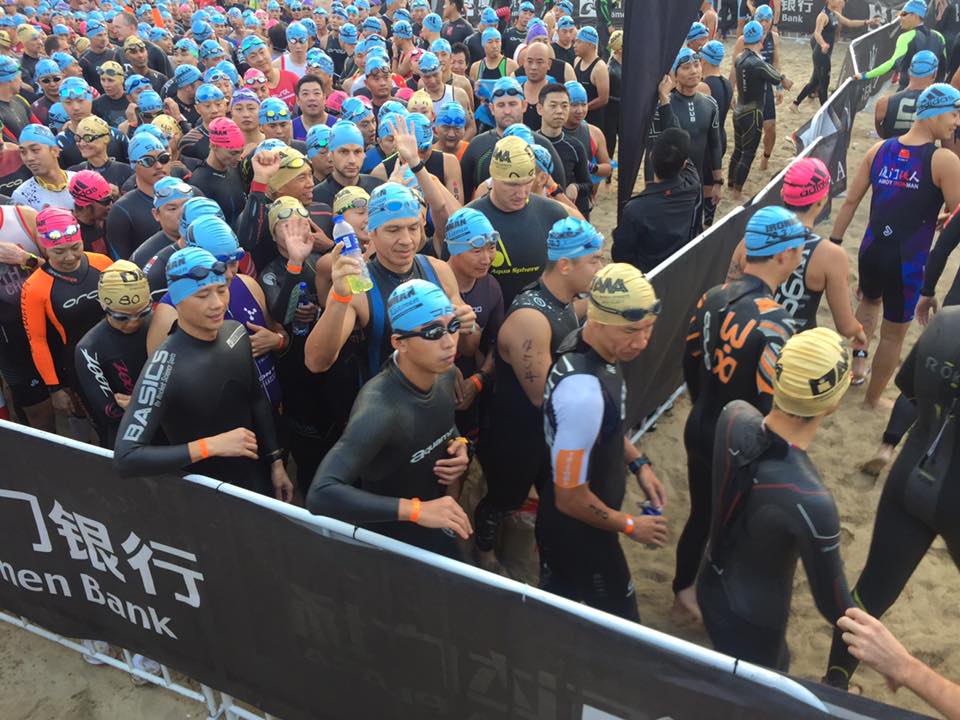 Through the transitions I ran to my bike, feeling a million bucks. Knowing that there is still a long way to finish I kept my cool, but when I heard Fen yelled "GO JEFF", I had to smile :). Bike course was flat and with smooth tarmac and no traffic (China is just good at closing roads!), I was able to keep my head down, keep my cadence and power. At one point, I thought I might be going to hard but the damage has been done, so I might as well go for it! For the bike, I broke by PB by almost 20 mins with 2.26 and I felt great! That is until I hit the ground running…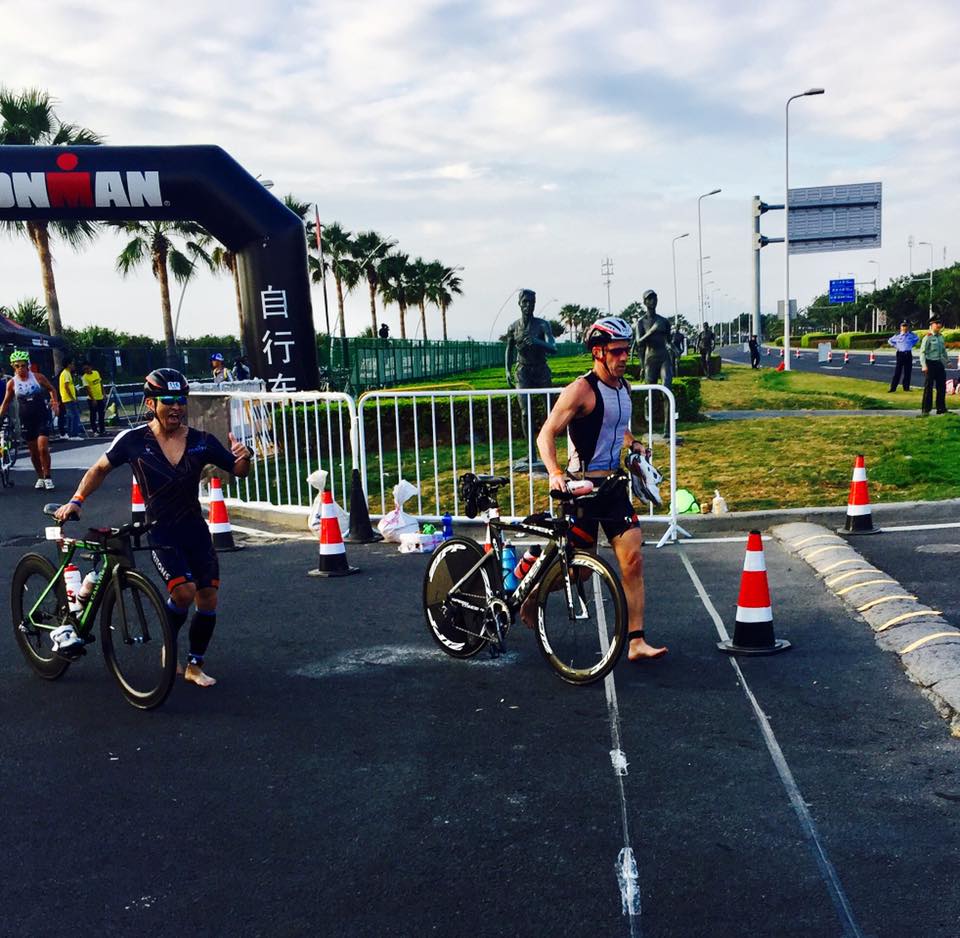 As we all know, if you go too hard on the bike, you most certainly will pay for it on the run and I did exactly that. In the 1st 7k of the run, I was still able to keep pace only to slow and slow even more in the 2nd lap. It was pure survival in the last lap with my competitors running me down like a dog. No motivational speech could help me as I know I might cramp at any second and I did not want to repeat my feat in Busselton (a very painful experience)!
With all this drama, I finished 4.46 and broke my PB by almost 12 mins! I was so happy, that was until I found out that I ranked 19th in my AG and that my qualification dream will most certainly be shattered. However, as with anything in China, the timing system broke down, and half way through the afternoon, I was somehow elevated to 14th… and qualification seemed like to be possible once more!
Tritons, as always, represent wherever we go. Mandy, Margo and Anne came 3rd and earned qualification spots and with that, Tritons also won our tri-club division.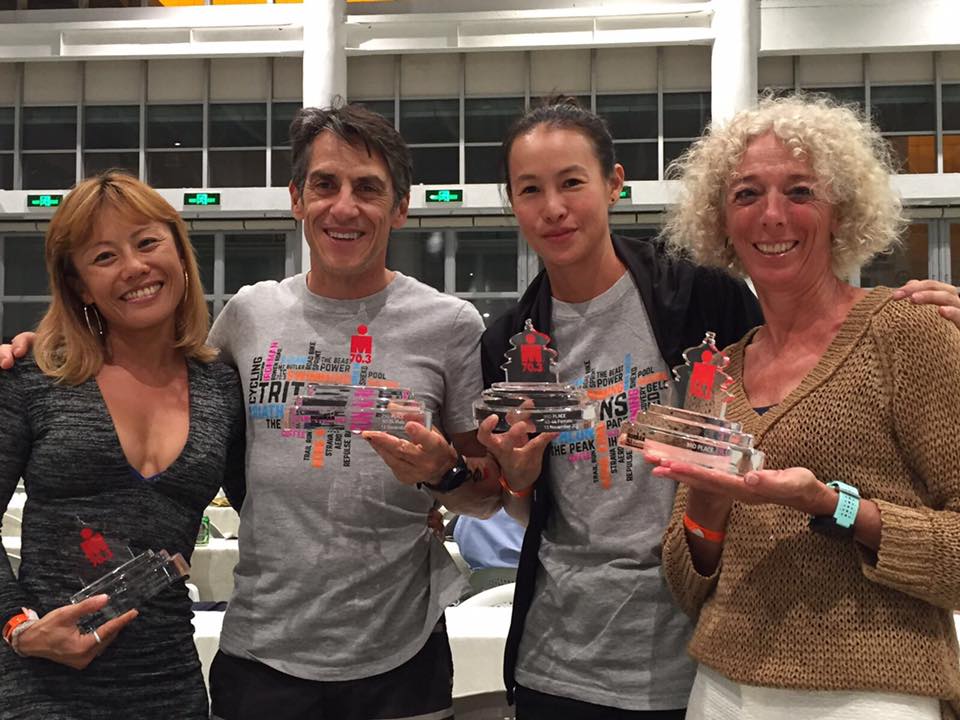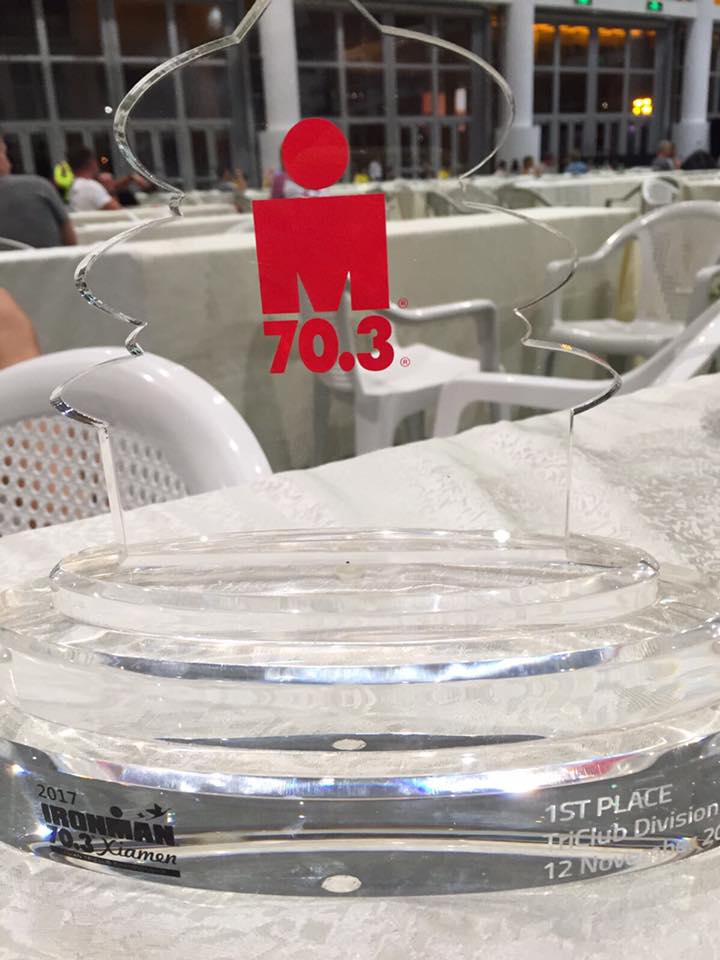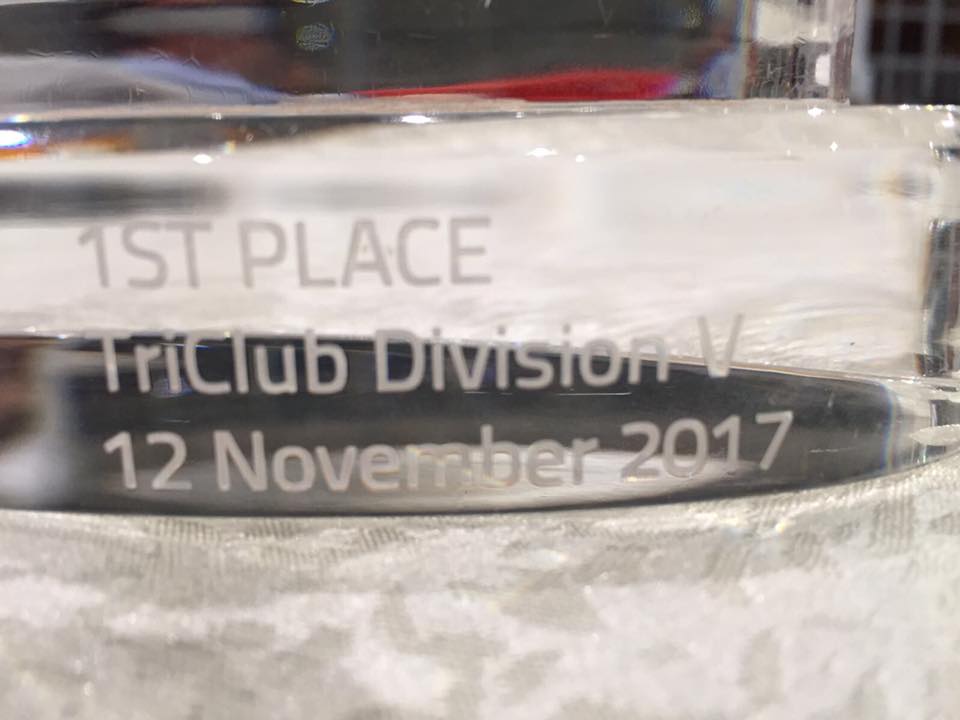 Then came the the male qualification roll down. Andres came 2nd in his age group, Richard 6th. For M30-34, with a couple of absentees, the announcer asked " Who wants to go, please come up". Thinking that I was pretty fast (sort of….. as Toby puts it), I went up but only to find out that I was wayyyyyyyyyy at the back in the line. There was a bit of drama, but at the end I got the World Champ qualifying coin! It was the greatest feeling, and the very first time I'd qualified!
It was a long. Long road to this qualification coin, from a two pack a day smoker to joining Tritons and starting with the swim squad. From swimming in lane 1 to lane 4 (well sometimes lane 3), from trying to finish a race to podium at races. With that I want to thank Coach Mike, Fen and AM for their help throughout the years. Racing with Tritons is absolutely a joy every single time, the camaraderie and friendship is what keeps me going in a race. To Fen and AM, yes I'm not a great swimmer, BUT thanks to your patience, I'm good enough to treat it as a weapon in my races.