Day 1.
One morning in Saigon…..
Took a zip around Saigon (or Ho Chi Min) the afternoon with the Tour guide from Spice Roads.
Got a feel for the Vietnam war and how it was in the mid 70's to live there.
Day 2.
Ho Chi Min to Phan Thiet
Enough of touristing. Time to cycle! Driven out of the city to start our ride up the coast to Phan Thiet. Great roads, dunes and pines. The Tour mentioned a white beach waiting for us at the end of the day but what ACTUALLY waited for me was a shower, wash kit, dinner and bed. And this continued pretty much every day for the next 12 days. Our time was FULLY utilised cycling and visiting the sights of these 2 amazing countries
Dried fish farms, to shrimp beds, to salt pans, to flood lit dragon fruit plantations, to hooting lorries. 100k down 900 to go.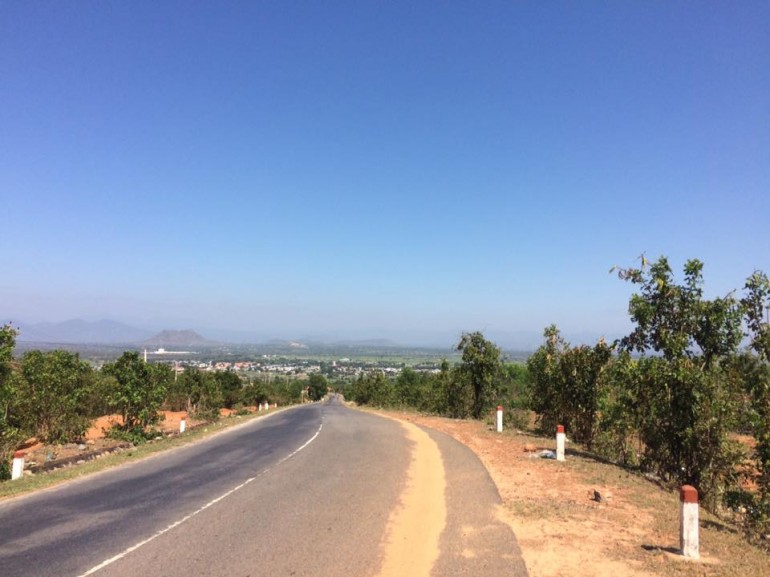 Day 3
Phan Thiet to Dalat. 3200m climb today the guide said. I clocked about 2400.
30 degrees at start. Humid. Long flat coastal road for kilometres.
Fishing villages to dunes, to lakes, to too far to much lunch, to kids on bikes too big, racing you! Head wind. Great roads though.
Into the mountains on slightly rougher roads! Long long long, rolling hills then after lunch, steeper, then killer. 10% for 22k. We had already done 90k so vanned it at 97. Ended on 18 degrees and dry. Just too much. Very challenging to have the last k's the hardest and coldest.
Up at 6am to do more of the similar.
Day 4
From Dalat to Mandagui.
Couple of oddities about Dalat. No A\C allowed. Or traffic lights. CHAOS to the outsider at junctions but traffic seemed to keep flowing without fights breaking out at intersections. No rickshaws allowed.
What an amazing place for food growing so far. Rice, dragon fruit, coffee, cassava, tapioca, grapes, bamboo, herbs, flowers, vegetables of all kinds, rambatans. The weasel poo coffee shop not to be missed! Also some lovely hand weaving to be bought here.
Oldest and highest railway in Vietnam. Now not functioning, only for tourists. Viets bought the cog line off the Swiss then could not afford to run it so sold it back!
Crickets, deep fried which we ate YES, cascades, coffee, potholes, poverty and perseverance.
5 hours 100k. Finished once more with 20k uphill 8%. Done in. With 27k to go, 2 flats in 5 minutes.
Day 5
Madagui to Cu Chi
Started in the van today hitting a coach stop cafe on the way too our bike start for $1.50 delicious breakfast, to avoid the National road and city traffic.
What followed was an AMAZING day through pepper and cashew farming area, crossing 2 small rivers on ancient little ferries, riding along a LONG reservoir wall which supplies 320,000 kWh of power to the Dong Nad province.
Today's farming run down!
Pepper, banana, pomelo, cassava related to tapioca, eucalyptus, tobacco, rice, gum.
Took a tour at the end of the afternoon around the Cu Chi tunnel area with our bike guide who was very knowledgable about this and many many other subjects.
Very interesting and scary. Paul and me went into one of the bigger tunnels for just 15 meters. Very hot humid airless claustrophobic. Best you look at web site for detail.
Day 6
Cu Chi to Moc Bai border crossing into Cambodia.
60k blast in the morning taking in Car Dai temple on the way.
Walked through busy border crossing into Cambodia. Took another 30 k on bike but decided too heavy traffic to continue so we hit the van and drove 2 hours into Phnom Penh.
Day 7
Free day, but we a cyclo tour of the city. Rickshaw bikes pedalled by rice farmers from the countryside who in the dry season have no work so come to city to earn money. Harrowing visit in the afternoon to one of the 300 interrogation prisons in Cambodia. S21. How mankind can be so so cruel? Enforced labour. Unbelievable tortures carried out. I was sweating and nauseous after 30 minutes or so. I had to get out. 1.7m people killed by the Khmer Rouge in 4 years. In my lifetime. I was 15.
Read about it: http://www.bbc.com/news/magazine-33096971
Took a sunset cruise to lighten the day. Well, it was Valentines Day!
Day 8
Shopping, cooking and eating with the owner of a small cafe this morning. Great fun to see lunch from market to table and EAT IT!
Phnom Penh is coming into the 21st century FAST
Took another boat trip this evening but to see how over 1000 refugee families from Vietnam have been looked after by the Cambodians, giving them boats on the river. Also taking a glimpse into the really poor lives of the Cambodian river people.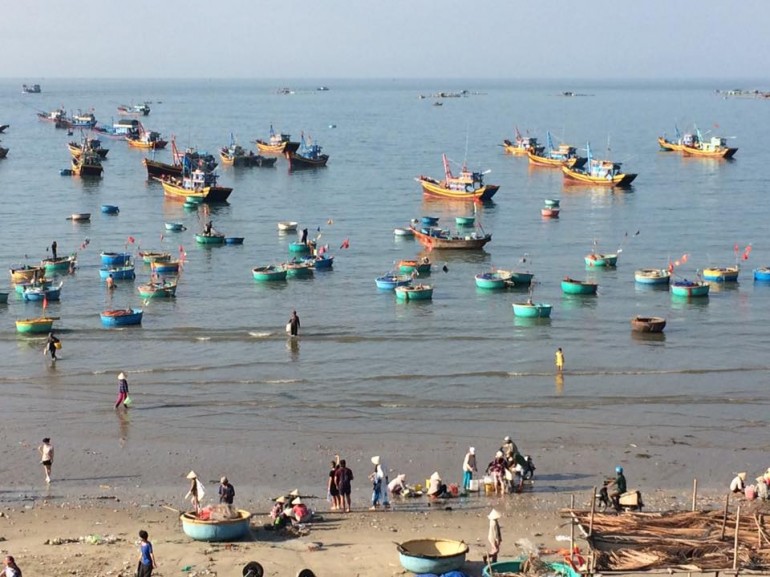 Day 9
Phnom Penh to Kampong Chhnang.
Early start to cross the bridge out of the city. Riding out of PP VERY challenging. Definitely not a beginners ride this one.
90k on bike and 509 steps up to the hilltop temple at the end. The lunch was a little challenging as the cafe area where it was cooked was hmm, how can I say, a little dodgy. Most of what was being cooked looked a bit like road kill! Having said all that, we were not ill during the trip at all. Our bike guide had a couple of dodgy days after eating 3 embryo eggs, a delicacy here I gather.
Lot less to write about from Cambodia. Not massively exciting riding (but challenging because of strong head winds for about 300k) as the roads are long flat and not many things to see for long stretches. Would mention at this point though, we had MANY MANY little side trips to odd shops, markets, pottery workshops, temples, roadside cafes, etc which would NEVER be on any coach itinerary as they would not be long enough nor generate enough profit. For us they were more colour on an already fascinating tour.
Day 10
Kampong Chhnang to Pursat
Palms (sugar), potteries; the people who were working in here earned 8 dollars for a 9 hour day, many of them small children, perseverance (100k in 4 hours). Long roads lined with deforestation and subsistence farming. It was more about the cycling today.
Day 11
Fast blast from Pursat to Battambang. 106k in just over 4 hours.
Overloaded lorries always entertaining though of course dangerous. Also worth considering, 4 times we saw group clearing land mines from the roadside verges in order to widen the road. Needless to say we stuck around on the road!
And I did think, no more temple descriptions or you will all be templed out. BUT this one was different in that behind it was another killing field. Next to a junior school. 10000 people killed.
Again terrible interrogations in small, grey ordinary looking house. The people of Battambang forced to leave their town and go to the fields. Many were murdered for no reason at all.
The bones were exhumed from a pit and put in the shrine
At sundown visited The Bat Cave! Quite Attenborough moment. 5 million each night leave at 18.30 and return at 4am.
Ate snacks of various bits of animal and vegetable. Good it was almost dark……
Day 12
100k from Battambang to Siem Reap.
Harder than the hilly days. One long, straight road of dragging tarmac (you cyclists will know what I mean), strong head wind and nothing to look at. K upon k of rice paddies and totally flat terrain. All of us challenged to the limit. Totally DONE IN!
Ps. I MUST have used more calories than the 1700 my watch told me. I must write to Mr Garmin.
Day 13.
65k around Siem Reap countryside
Visited first the Angkor Wat temple. Massive restoration being carried out all around the Wat with funds from UNESCO. Expected visitors this year 5 million. Start early if you come here.
Now I hang up my helmet. Done. 960k in 10 days (2 days rest in middle).
Couple of points I NEED to make knowing all you nutter Tritons with your monitors and your PB's and need for speed and distances. This trip was NOT about that as much as a tourist trip of Vietnam and Cambodia with some serious ISH cycling in order to achieve it. I would also have done it the other way round to get the legs in on the flats first, and possibly had some lovely tail winds for a few k, then hit the hills at the end.
<a href="https://www.tritonstriathlon.com/images/blog/PDF/Altons_Vietnam_Cambodia.pdf" class="uk-button uk-button-secondary" target="_blank">Download Altons Vietnam Cambodia</a>