We land in Chicago after being flown by Lars on one of Cathay's 777. During the flight we spend a good hour at the back of the plane chatting with Lars during his rest time. One passenger sees a pilot in uniform and immediately turns to him with quirky requests such as: "my back hurts, any chance you can send me to the front of the plane so I can lie down?'. In Chicago, smooth transfer waiting for our connection to Nashville.
At the Nashville airport Avis, we pick up our gigantic Ford Expedition. It has enough space for 4 bike boxes and 5 passengers. There's 2 of us, 2 small bags and 1 bike case, that'll do. 2 hours drive and a quick dinner at a local smokehouse restaurant and we crash at the Chattanooga Holiday Inn.
Friday September 8
As I put the Canyon TT bike together, I expect the usual surprises. I go for a short ride on the course and as I hit the first hill the head stem has become totally loose. There is no way I can safely race that way.
We meet Tritons Mark Blick at the ironman village, we wait in the long queue for my bike to be dropped at the repair tent where they advise a full tune up, tire change and head stem fix. During the wait, I register for the event, then Sarah, Mark and I grab lunch at a nice local BBQ restaurant and head back to our respective hotels for a nap and some prep. Later that day, we meet Mark, Ray Picard & Stefano Passarello for an early dinner. The town is bustling with life, race participants are everywhere, easily recognizable with their shaved legs, ironman wristbands and t-shirt and caps featuring ironman events from all around the world. People check each other out. An older American man asks me about my ironman Vietnam 2015 event cap, I tell him it was in Danang, he shows a smile of heavy memories saying he was there years ago, he looks like a Vietnam war veteran. The restaurants are full and the atmosphere is ramping up for tomorrow's women race.
Saturday, September 9 – Women race day Early morning, Sarah and I jog to the start where me meet Mark. We attend the start of women pros and age groupers, fascinated to see 2400 of the world's fastest women triathlete.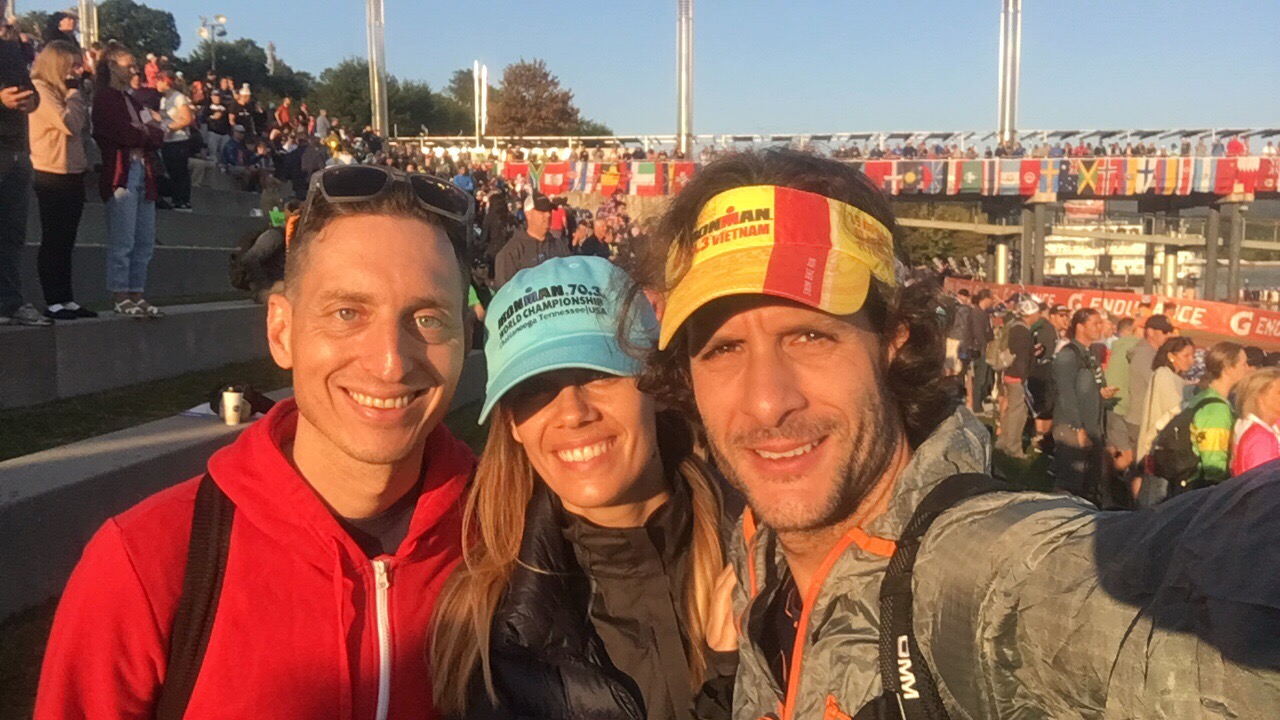 From Tritons Hong Kong, only Corinne Koster is racing today, she has everyone's support. Jo is at the start cheering her on. A while later, when the 75+ dive into the Tennessee river for their swim leg we wonder of this will be us 30-40 years from now? Time for breakfast, we head to the 'biscuit restaurant' with Mark and meet some more participants. Back to the start/finish line, we cheer for the first pro women to reach the finish line, Daniela Ryf first and a full European podium. Sarah and I are standing right behind Dave Scott and Mark Allen, pretty cool to see these 'ironman war' guys.
Sarah is starting to feel the buzz of triathlon and mentions she might want to try herself at some 70.3 in the future. I am sure she would do very well. Just need to upgrade the heavy city bike for a sleek carbon machine. The top women age groupers are now crossing the finish line. I pick up my bike. The head stem is finally fixed and the bike sports new tires, new tubes and is tuned up. After an early dinner, we are back to the hotel for final preps, leg tattooing, bottle & nutrition prep. In bed by 9pm with iPhone alarm and Fenix 5 as backup.
Sunday Sep 9 – race day
For once, it's not an early start. The alarm rings at 515am, my 40-44 wave is at 738am so plenty of time. At 6am, we walk to transition in cool & pitch dark Chattanooga, it is around 18-20 degrees, a dream morning for us racing in South East Asia. Final transition setup preps, taping gels, tire pumping to 100-110. I run into Konrad who is a few bikes away from me & take advantage to shoot a 'Facebook live' segment for the Tritons.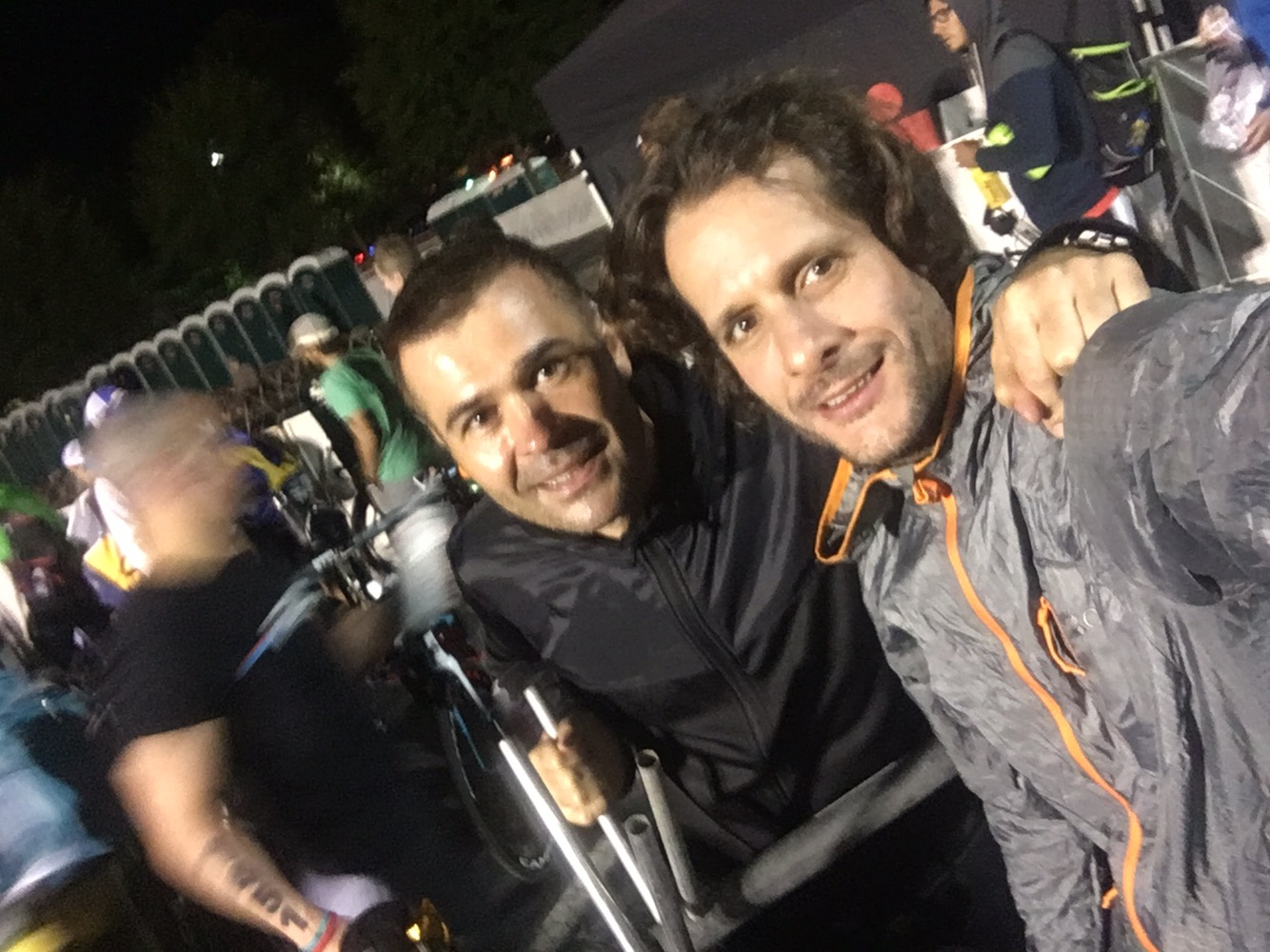 I twist my body into the wetsuit, body glide & Vaseline nicely smeared around my neck by Doc Sarah to avoid chafing and we walk to start line. Sarah stays with me until the last meters, last hugs for support, I enter the funnel where only participants are allowed. There is a nice viewing area next to the start for supporters and Sarah manages to squeeze in right next to our holding pen. We shoot a few last pictures with Mark & Konrad.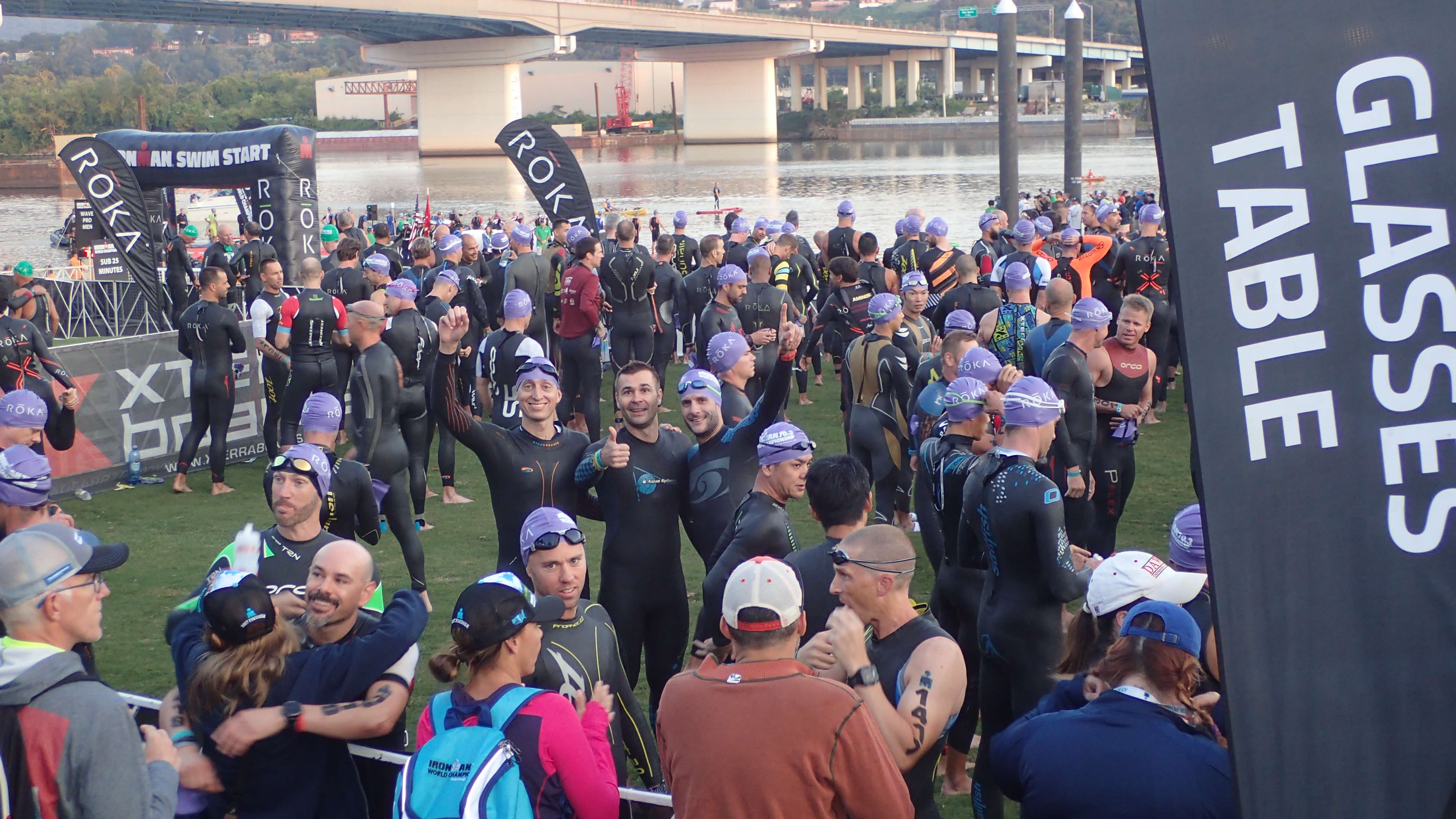 SWIM LEG – 36:10
Caps and goggles adjusted, last minute stretches. We walk towards the start and at 738am, every few seconds and 10 men abreast, we plunge into the Tennessee river for a long swim, current against us for the first 1000m.
The sun is rising over the river, it is beautiful but makes for very difficult sighting. It is almost impossible to see the yellow buoys in the sunshine. Surprisingly, during the first 1000m I am catching up on a few swimmers, then stabilise my swim for the remaining 900m.
TRANSITION 1 – 4:47
Out of the swim, I lie on the carpet for wetsuit removal service, run through bag pick up area, I feel some cramps looming,
I run up a ramp, trying to get my bearings. I see Mark in the changing area where we have to wear our helmets and take or wear our shoes before proceeding to bikes. After that I won't see him anymore until the end. On the final 100m run stretch before the bike, I see Sarah where we had agreed to meet, I stop briefly to give her a kiss and hear the women around her yelling 'that's so cute'. I reach the bike, grab a Torq energy bar.
BIKE LEG – 2:57:57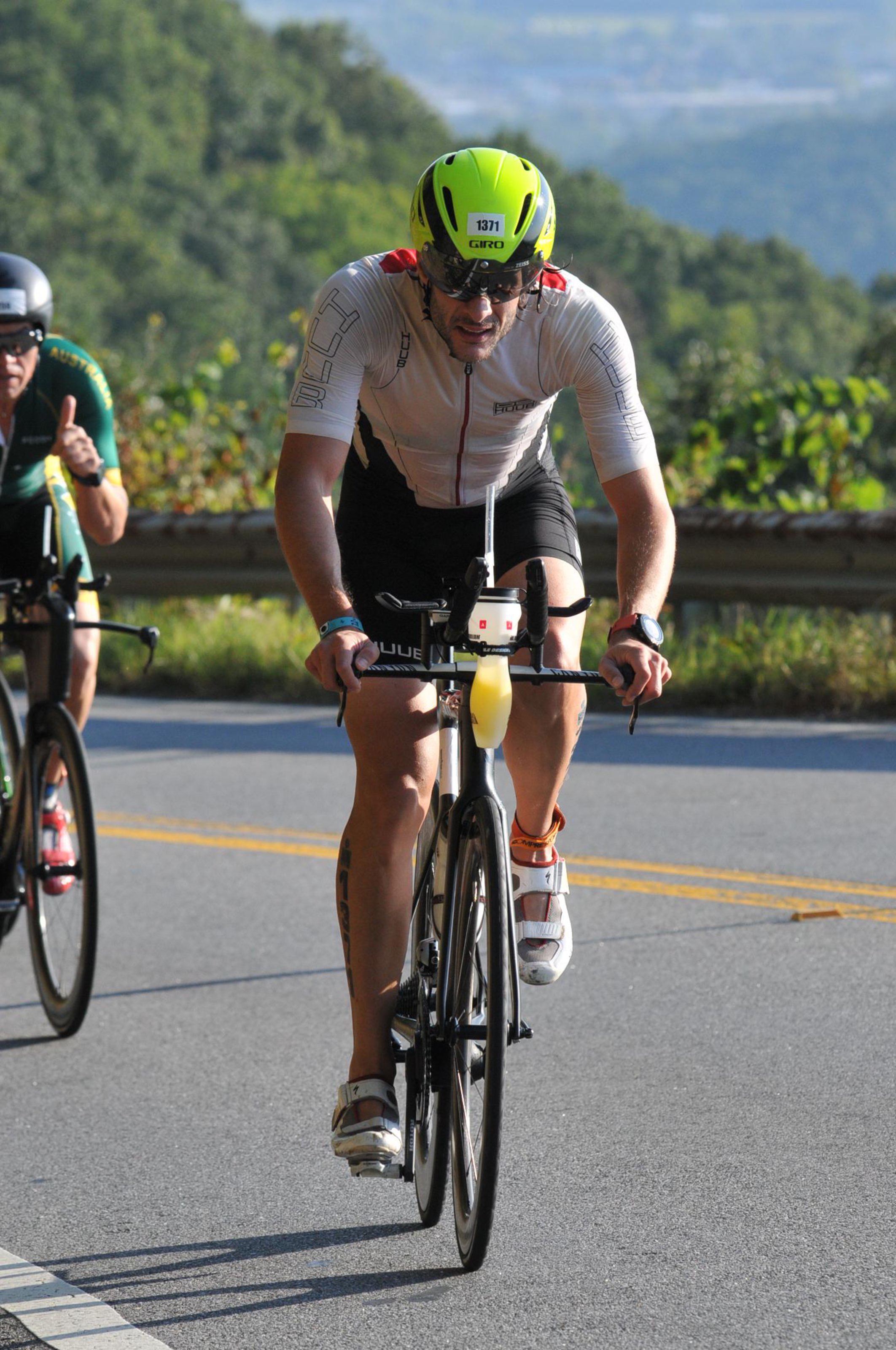 This transition felt like an eternity, I jump on the bike, and try desperately to put my feet in the shoes without crashing in the sidewalk or into another cyclist, it's close. I will need to perfect this part of the transition. Off for a long 90k ride. At speed, i feel cold in my wet tri-suit. After a flat 8k, the hills come suddenly, a quicker, a second kicker and then long steep hills follow. Steeper than Stubbs road (for those of us riding in hk) and about 2-3 times longer than Victoria Peak distance. I struggle to keep the watts down to around 210-220 as riders continuously pass me. At the top, the view on 7 states is mind blowing but no time to admire it. The crowds cheer and clap and the watts increase proportionally. It's funny to witness the immediate impact of external support on internal power! The course is long and hilly and it's important to stay within the planned watts. More downhill, more steep hills, we enter Georgia, Ray passes me at around mile 15 and cheers me on. Around mile 20 I get a drafting penalty from a course Marshall on his BMW motorcycle, I am really pissed off, 'drafting' while slowly going uphill with riders passing left and right, that sucks! I try to push this annoying thought away and focus on the race. At mile 34 I stop for what feels like a very very long 5 minutes in the penalty tent. The final stretch is relatively flat and I do everything I can to finish the bike under 3 hours. Consider I had a drafting penalty and it was a very hilly course I am satisfied when I dismount and see my Garmin showing 2:57.
TRANSITION 2 – 4:10
No need to rack the bike, volunteers take them from us, nice touch! Quick pee stop, and as I run out, I see Sarah again who manages to be at each transition. It's so nice to have a supporter and gives me extra motivation to keep pushing (She will have clocked 15km walk – Garmin 235 verified – walking from hotel to transition to hotel to transition to bike to run to finish line. Hats off to supporters!)
RUN LEG – 1:49:59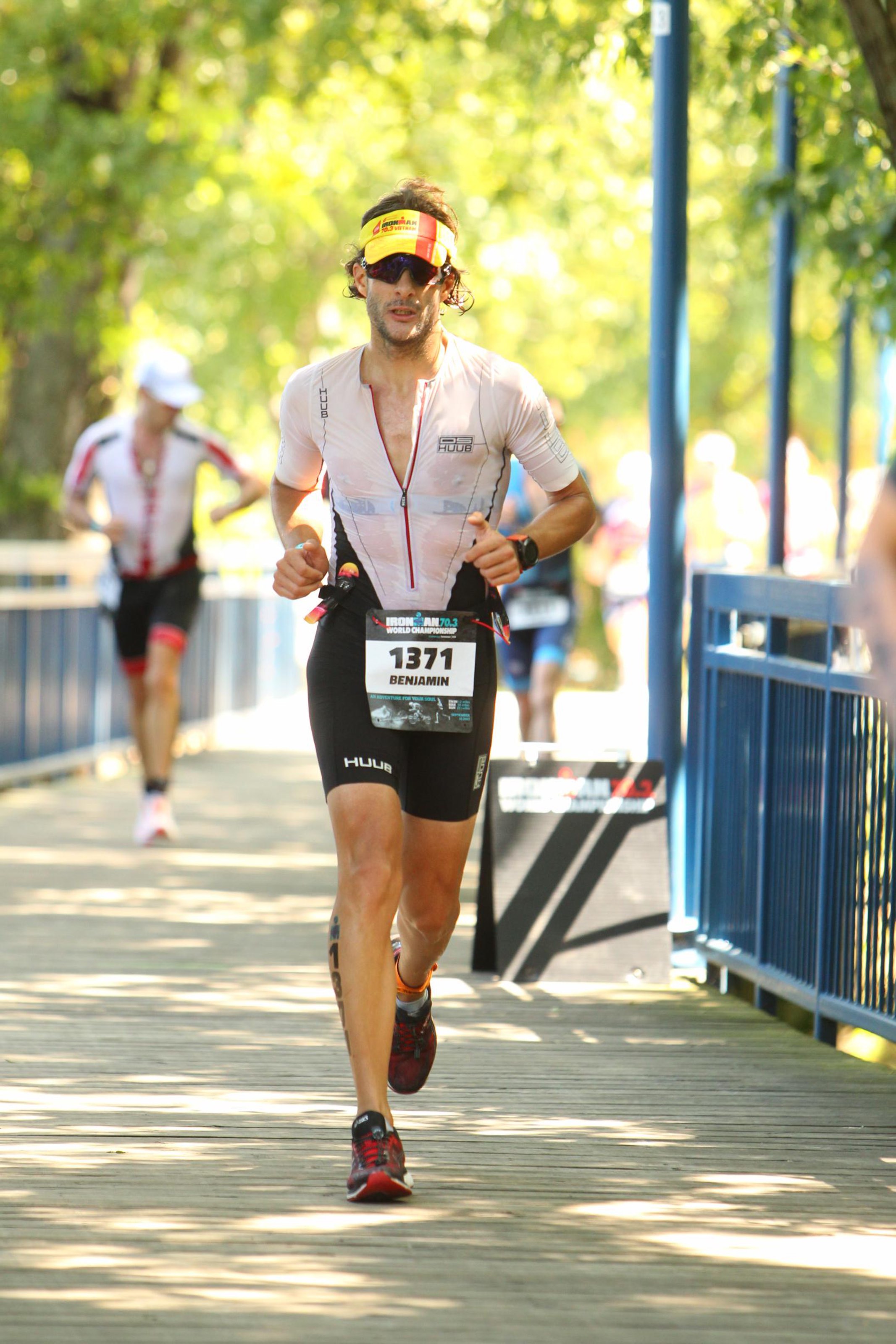 it's a tough course. One would have thought that after a tough swim in current and a hilly bike course they would have spared us with a flat run course. But on the other hand it's the world championship so I guess some challenge is expected! I cramp after less than 1km, pop 2 salt tabs immediately and a gel, slow down, run with a different form to relieve my thighs from the cramp and within 1 km the cramps go away, scary prospect to run a half marathon with cramps. I increase my pace to 4:45/km but I won't be able to sustain this and stabilise at around 5:15-5:30 for the rest of the race. The first loop is ok, a nice park run, crossing the main bridge over the river, some hills, downhills and uphills again, it's getting tough and my face starts to reflect this. I do not see any tritons on the run except for Corinne who cheers for me at the end of the first lap as I cross the second pedestrian bridge. Another lap begins, I want to finish badly now and start counting the Km remaining. 18, 19, 20, final stretch of road, some signs say 'left to finish line' and 'right to second lap', this time I run to the left, it is slightly downhill and I try to push somewhat with the little energy that remains in me. I see the red carpet, the final 100m, Sarah cheers for me from the left side, I frown barely able to acknowledge her this time. Done! I cross the finish, tired but ok, I gave it all.
POST RACE
After a nice lunch indulging on burger and beer, we head back to transition, pick up the bike and walk back to the hotel. Legs are tight. 730pm we meet the Tritons at the banquet dinner, Jo, Corinne, Konrad, Ray. Mark unfortunately had to skip the banquet to get ready for his early morning flight trying to escape hurricane Irma.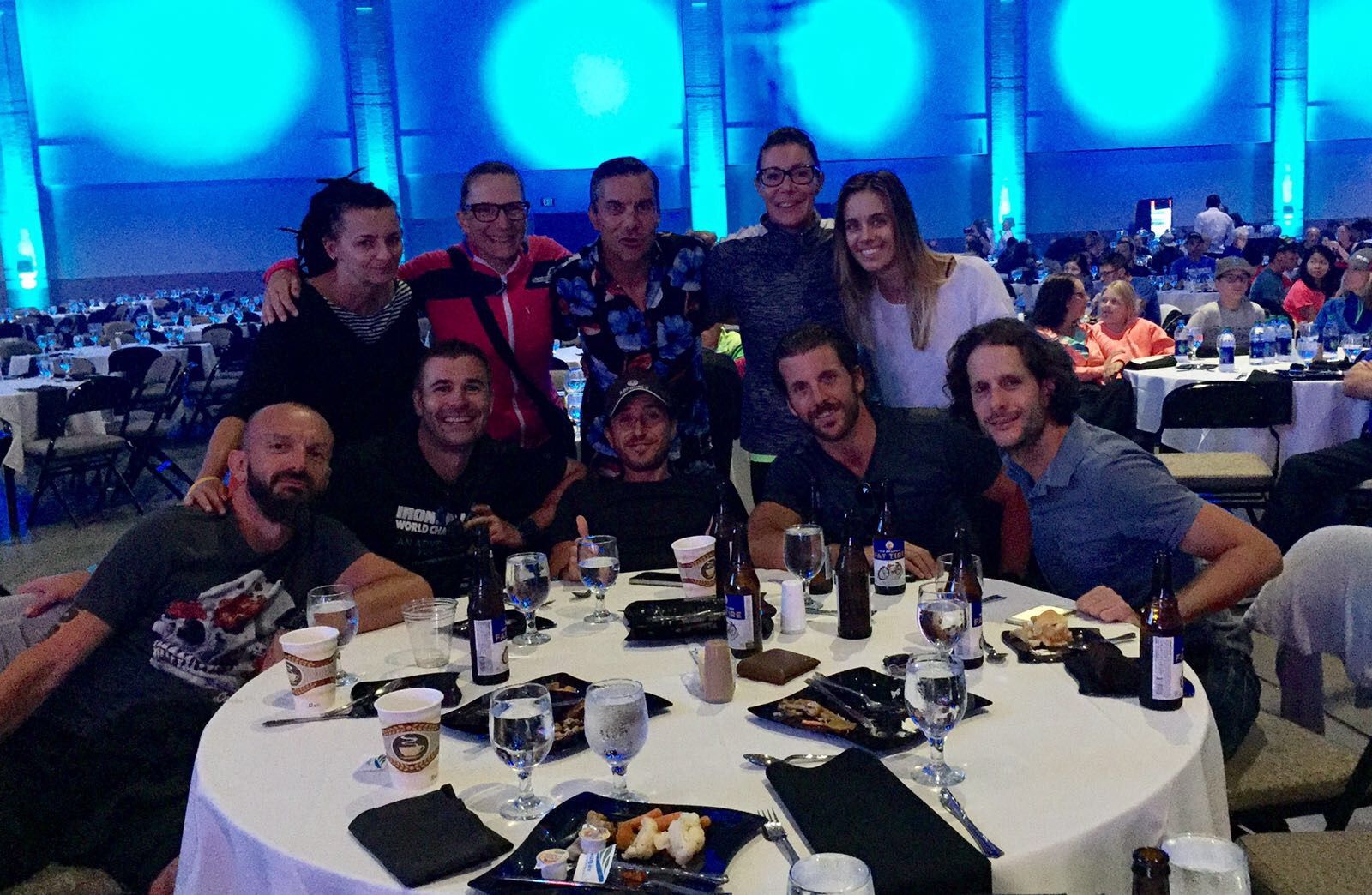 Food is quite good, Jo, Corinne, Sarah and I stay through the entire event and are amazed by the older age groups. These men and women are fascinating, lots of podiums and lots of huge smiles. They show us a movie about next year's Mandela Bay World. At the door of the hotel, we shoot a couple pix with Javier Gomez, Olympic medalist and ITU champion who won today's world championship in a crazy 3:49.
Off to bed. The next morning Sarah and I start our road trip and drive to New York through some of Americas most beautiful roads, squeezing in a few scenic runs. We will fly back to Hong Kong a few days later after a 2-day stop in Manhattan.
More pictures on Ben's blog here:http://bengrenon.com/chattanooga703/