The morning was looking to be stellar. The air temp started at 19C and predicted to hit highs of 34C. We all woke at 3:30am to make my transition set up and the place was already alive with both half and full participants. The swim start was self seeded and I put myself at 45 minutes. To hide my nervousness, I started chatting up anyone who would listen to me. I met a crazy big Indonesian contingent, whom many were running their first 70.3 and a few who were doing the relay. I have to admit, the seeding was very well organized with 5-7 racers released into the water at a time. By the time half the 70.3 racers were in the water, that's when you felt something strange was going on. The kayaks and canoes were in frantic regrouping, whistled were blowing, and the "on deck" lifeguards had one arm up in the air. You could hear speculation weave through the crowd - Shark? Shark? Great white? Then, in a very organized fashion, the kayaks began to push the swimmers back towards the jetty. There were ladder exits along the jetty and it was quite obvious that everyone was sprinting to them. "The swim is cancelled," the announcer shouted over the microphones and disappointment rippled through the crowd. For Laurent and Tracy, they thought I'd gone in the water and started to disperse and prepare for Laurent's full start, but then all the supporters came back when the beach got a little chaotic. We were told to strip off our wet suits and wait. And wait we did...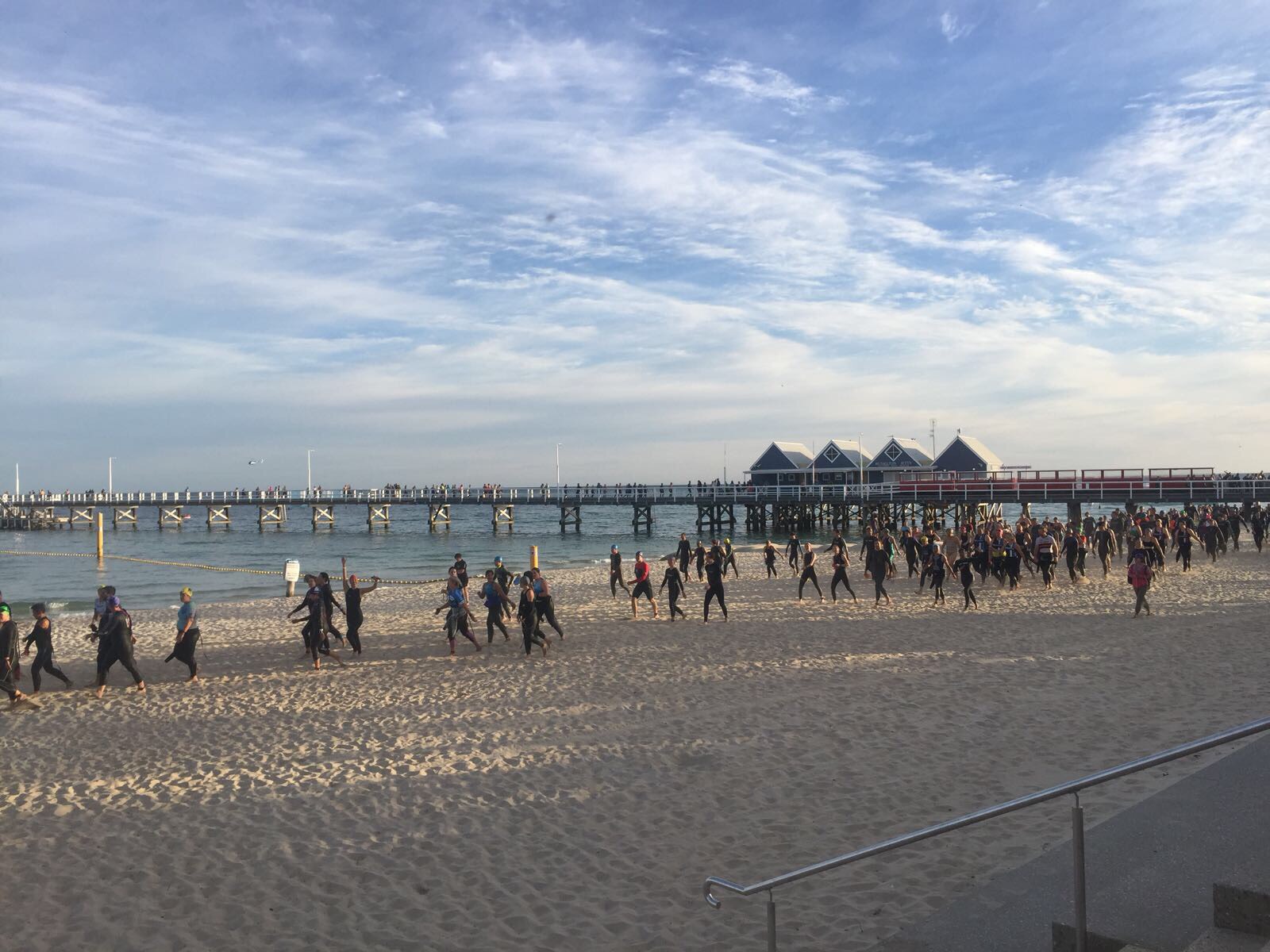 The race then proceeded to start at a dry T1. While it was a rolling start, a lot of people were expecting drafting... and that's what happened. The ride was awesome however. When the road was smooth asphalt, I could hit 30+ km/hr. It was fast and I maintained race pace HR. And the volunteers would run to hand us water... there were people cheering everywhere on the ride! One great thing about my first race is that we (first timers), get orange wristbands. And everyone recognised it and wished me good luck! I saw Laurent once as we passed at one of the last moments where the half and full would meet. And my nutrition and hydration consumed as planned: two bags of heavily salted mashed potatoes, 3 gels, and 3 bottles of 24 oz electrolyte water. Oh, and sadly enough, I saw witness to two kangaroos hop across the road with the baby side swiping a rider who went crashing hard on his face. I stopped and went to check on him. He had clearly broken his nose and was having trouble breathing, but then another lady came and said she was a doctor, so I got back on my bike and continued on. As you come back into town, you can hear the cheering, the cow bells, and the announcer beckoning you. There is no slowing down now... and the reception is sheer joy! I had so much fun that I didn't even feel like I had ridden 90 kms.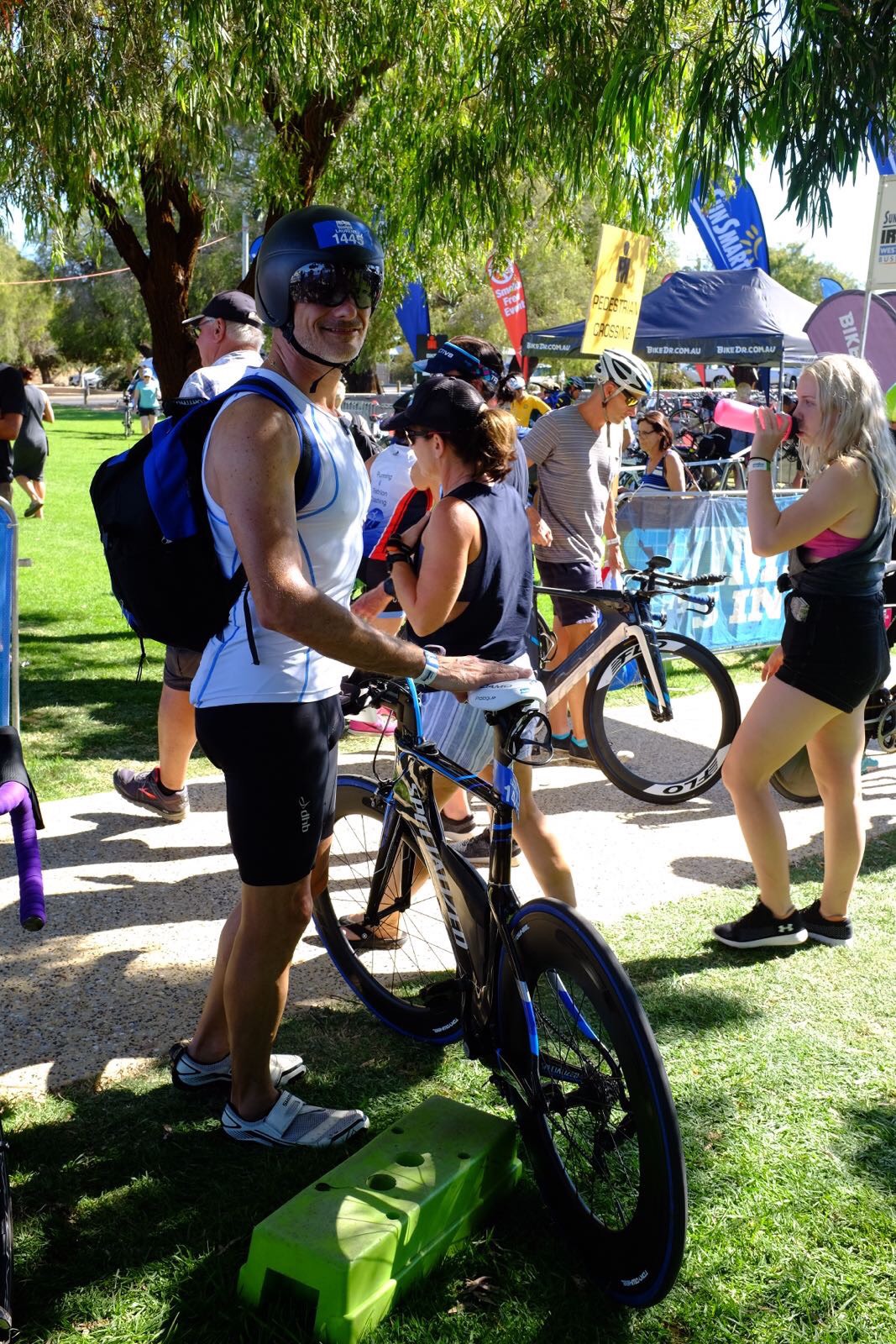 Coming into T2, I knew it would be a tea party. I redid my hair (of course), bathed in sunscreen (again), body glide, hat, and a bathroom break for a 9 min transition on to a sweltering hot course. The run course is around 10 km in length, looping through the main section out and back. The people everywhere were fantastic! They all called you by name and asked you how you're doing and gave all sorts of encouragement. Water sprinklers dotted the course (I guess they were expecting the heat) and the amazing neighbourhoods of Busselton came out to support with their hoses and the children with their water guns. It was so much fun! While the run was tough, with my hamstrings and quads on fire, my brain just wouldn't let up and kept telling me to go go go! I stuck like glue to my nutrition and hydration plan, stuck to my HR plan, stuck to my sunscreen plan, and finished a little longer than I had hoped. The best part was seeing my sister Tracy, I sniffled back tears on my last lap, knowing I was almost there, but she gave me grounding. I also found friends on the course who egged each other on, even strangers who you pass and then they pass you! I saw a fellow runner who was walking at the last 100 m and we just encouraged each other to just go for it. Then crossing the finish line was phenomenal! I cried. Relief, joy, satisfaction, elation, amazement all bundled together. There was no better moment than that.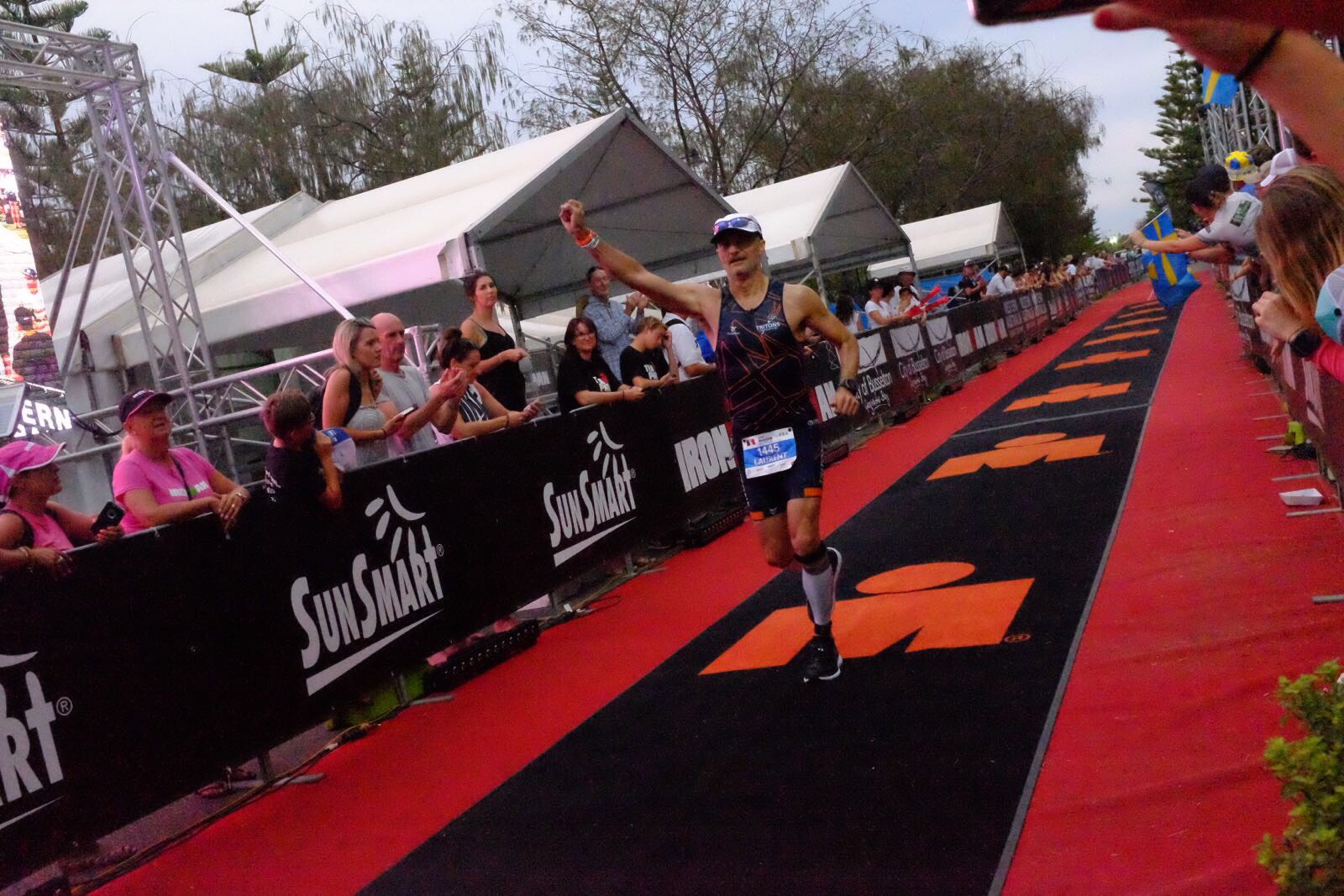 Overall, a fantastic experience. The energy at Busselton is absolutely phenomenal! Even to the end, the finisher's chute is lined with people. For the full ironman, hoards of people waiting for the finishers and are banging on the sideboards and chanting your name.... that's how they receive you - like royalty. And you have a fantastic volunteer at the end who gifted you with a well deserved medal and a finisher's towel around your shoulders, hugging you, congratulating you. I didn't even know my volunteer's name, but she was so kind and gentle, escorting me to get my timing chip removed, and physically carrying me on her shoulders to the massage tent. I would recommend this course for any and everyone. Really glad I did it, even though I will need to race another 70.3 to really say that I did it. Until then....