n a reprise of their roles from the 2016 Taiwan Ironman A-List cast members: Ruth Chen, Tobias Chu, Margaret Ko, Ross Milward, Jeff Wei, and Stuart Wong were joined by former support crew turned racers Mary Ho, Michelle Sun (113 debut), and Lucina Wong (triathlon debut).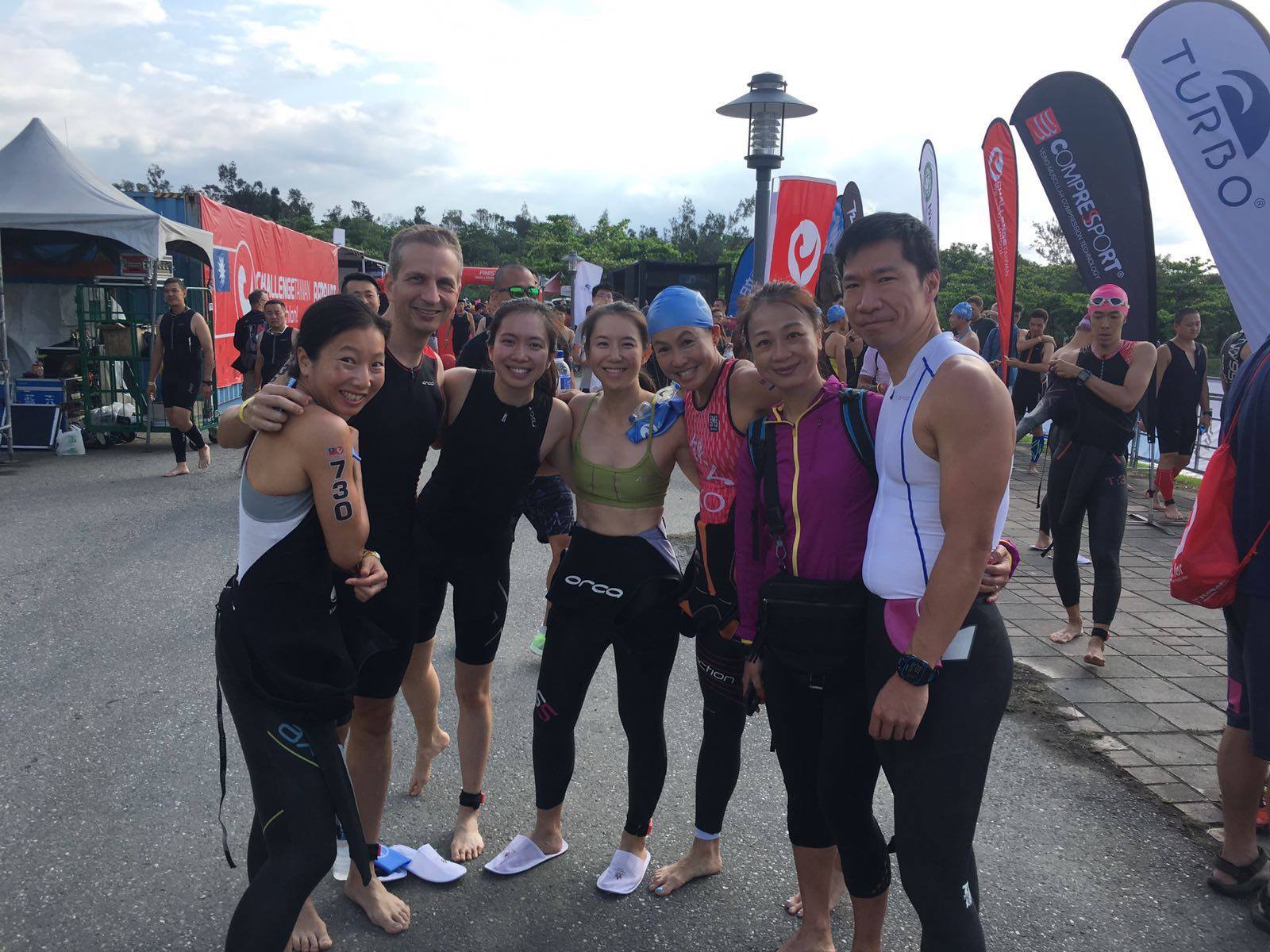 Arriving to Kaohsiung on Thursday April 27th, the baggage area could've been mistaken for the Scion advertising photo studio. Our team mom (aka Margo) had arranged a party bus onto which we carefully tetris-ed our bike bags and started what we thought would be a 3 hour drive to Taitung. In high spirits, we were cruising smoothly to 7/11 where the driver encouraged us to take our time to have some lunch while he cooled the bus's engine. This was the first warning sign that we didn't quite realise was a warning. Full of noodles, hot dogs, baos and other pre-race healthy carbs we continued on Route 9 to Taitung until…. the radiator needle strained into red forcing our driver to pull over. As we huddled on the side of the road under a corrugated metal shelter, our driver tinkered about and we were jolted by the spray of water inside the bus even though we were dryly observing from the outside. The water leaking out from under the bus was like the hope leaking from our hearts of reaching Taitung in time for registration and bike assembly. Fast forward about 5 hours later and we joyously if somewhat exhaustedly arrive at our hotel in the second party bus.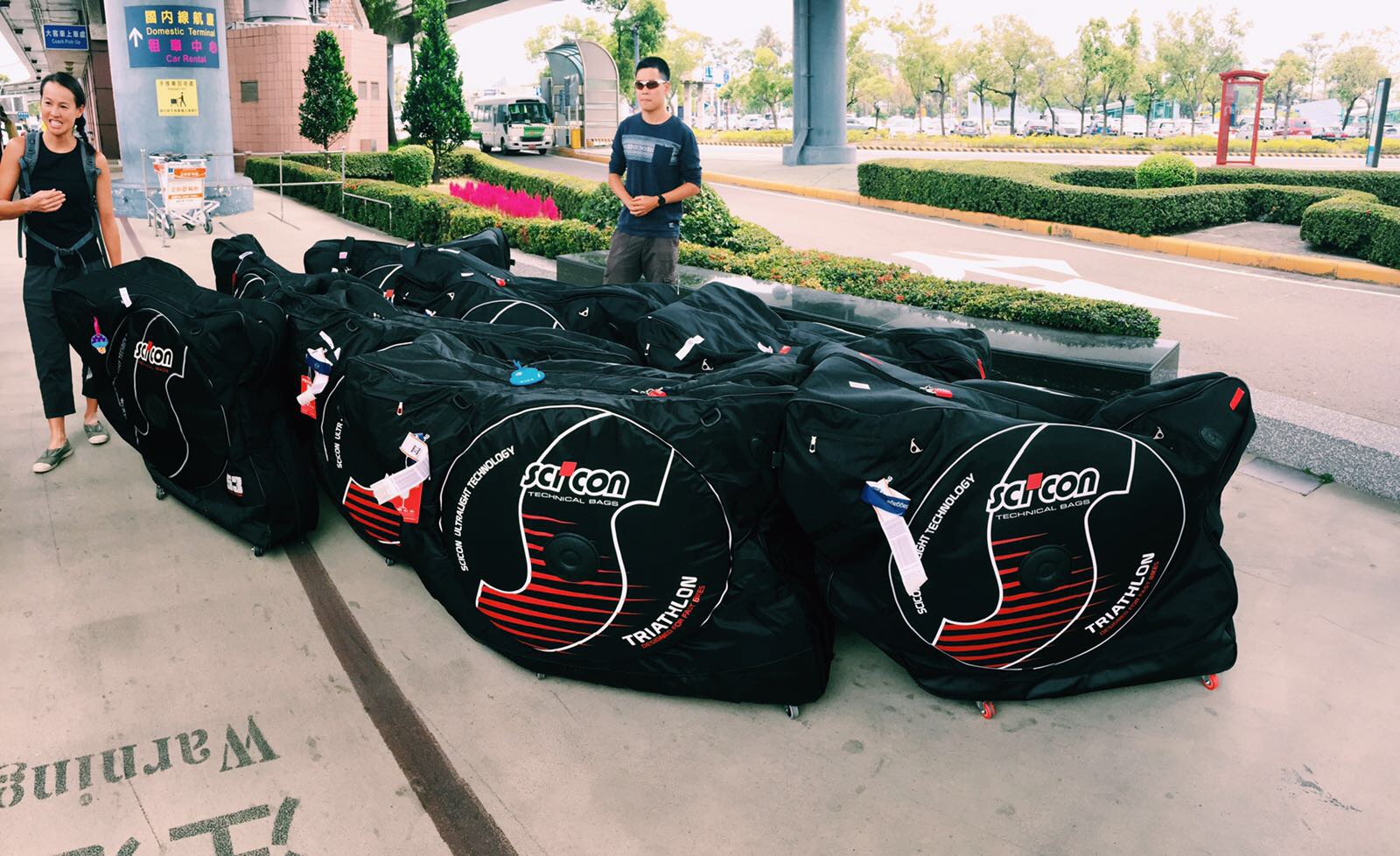 We woke up to drizzly chilly skies so it was no surprise that the race organisers announced later that day that wetsuits were permitted for the swim. Challenge races have a reputation for having a more relaxed-family-friendly atmosphere, but we didn't know how relaxed until we got to the race briefing… "oh your timing chip? left or right ankle? it doesn't matter… when do you check-in your transition bags? Oh tonight is fine… but it's up to you. Don't draft, but we've never given out any penalties… oh your swim starts? I think they're two minutes apart… what order? Oh well, let me check and get back to you."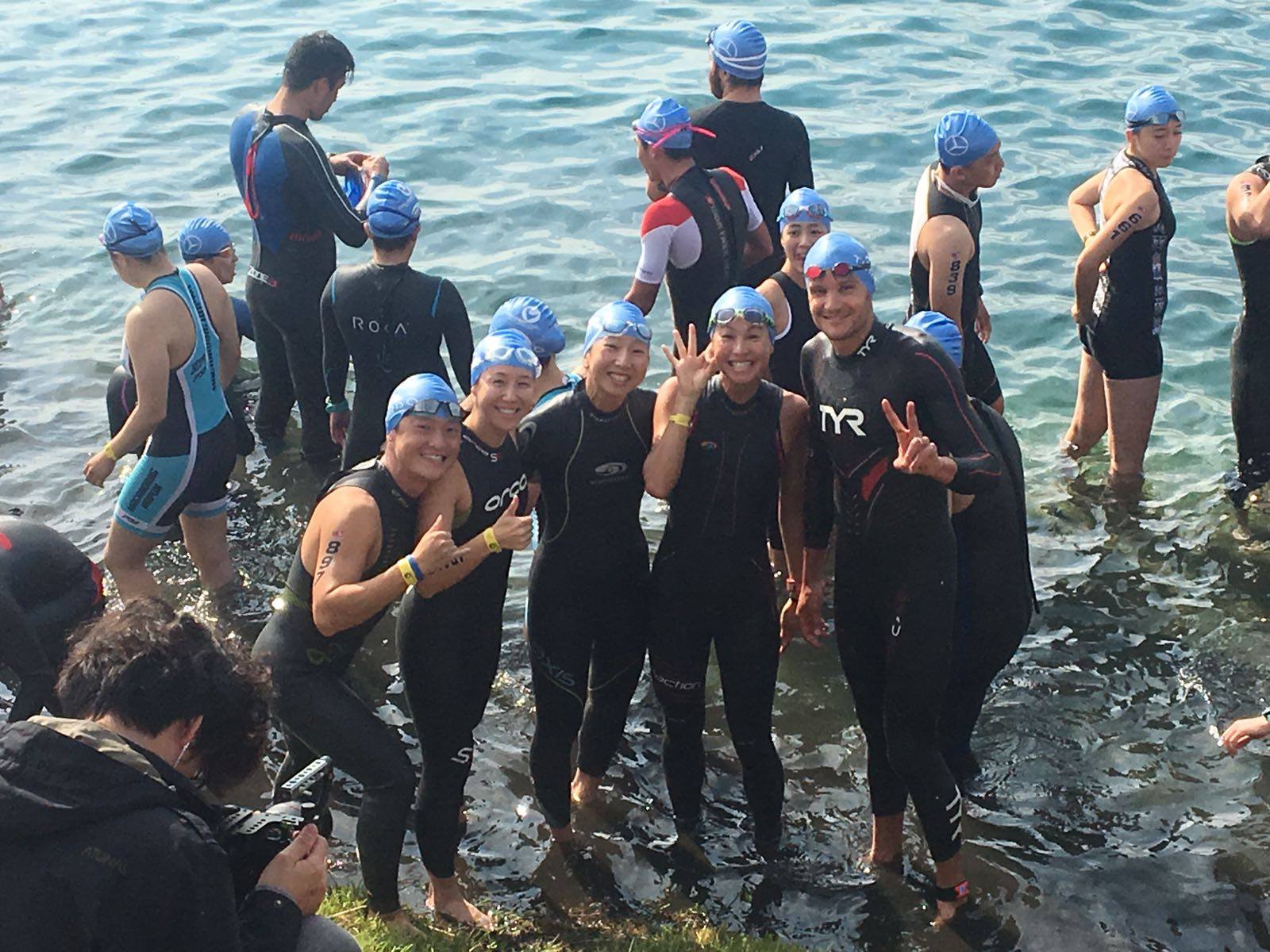 As race morning arrived, the conditions started to feel a tad warm for wetsuits, but it seemed only Ross would not take advantage of the potential speed boost (but of course he hadn't been bothered to pack a wetsuit either). Somehow the men's 30s were grouped with the women as the first swim heat. Why? This seemed to defy any logic, but we didn't care once we saw Jan Frodeno (2015 & 2016 Ironman World Champion) emerging from his warm-up to start the race next to us!!! Hearts a flutter… the girls dove in and like a dream, Frodeno was gone… not even Jeff with his weaponised swimming could catch any of Frodeno's bubbles. The lake swim was clear, comfortably refreshing and an out and back course making for generally good times.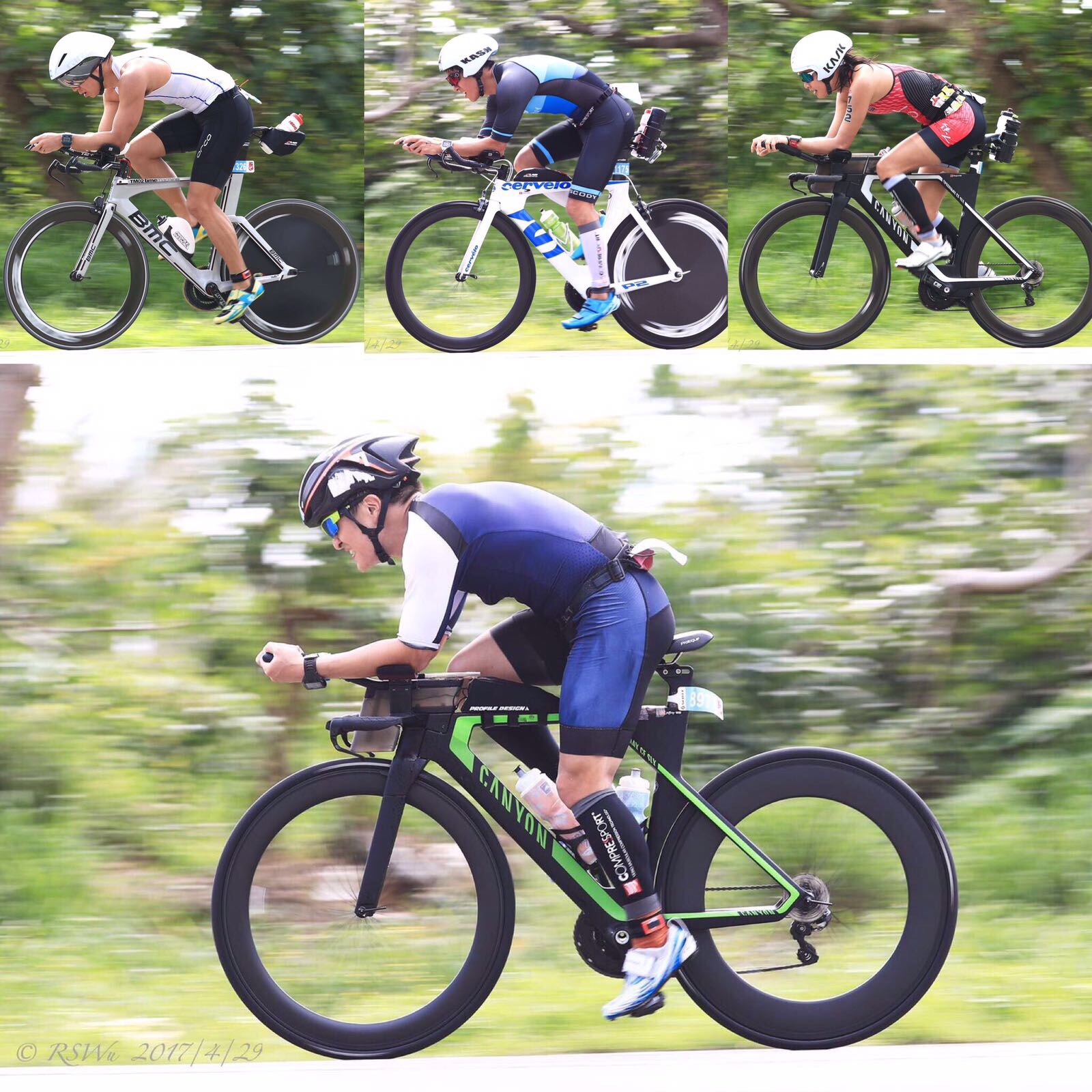 The bike course was also an out and back heading North on Highway 11 along Taiwan's scenic east coast. With slight uphill and headwinds going north bound, the southbound return was fast. Brave Michelle on her first 70.3 hunt may have had the longest ride of her young racing career on flat pedals, but at least saved time in T2. Despite the assurances during the race briefing, Mary received a drafting penalty costing 4 minutes served in T2. And even though Ruth had put TT bars on, there is no photo evidence of her in aero position… Margo on the other hand was the poster child of aero inspiring the road bike hold-outs to go aero bike shopping!
The run started with a beautiful dog-leg through the Taitung Forest Park before another out and back along a long boulevard that stretched for… well, miles before cutting back through the park and ending at the lively Challenge village in the city center. Aid stations were plentiful with variety of drinks and nutrition and super friendly volunteers. Stuart's emphasis on run training paid off as he held on for a PB (and 3rd in AG) staying ahead of Ross who's pit stop mid run didn't help his time though he still finished 7th AG. Jeff suffered (as usual) with more and more weakness leaving his body. Toby caught his rival and never looked back having what he described as a great training run. (Machine…! Who else can say they felt that good on the run leg of a 70.3?)
Toby (first overall) led the Tritons charge to the podium with Margo (4th female overall), Ruth (2nd AG), and Jeff (4th AG). A big surprise at the awards ceremony was Toby receiving the grand prize of a Specialized Shiv frame!!! We might be seeing the Shiv in TC soon though without Toby at the cockpit. Luckily for Ruth the frame only came in size XS!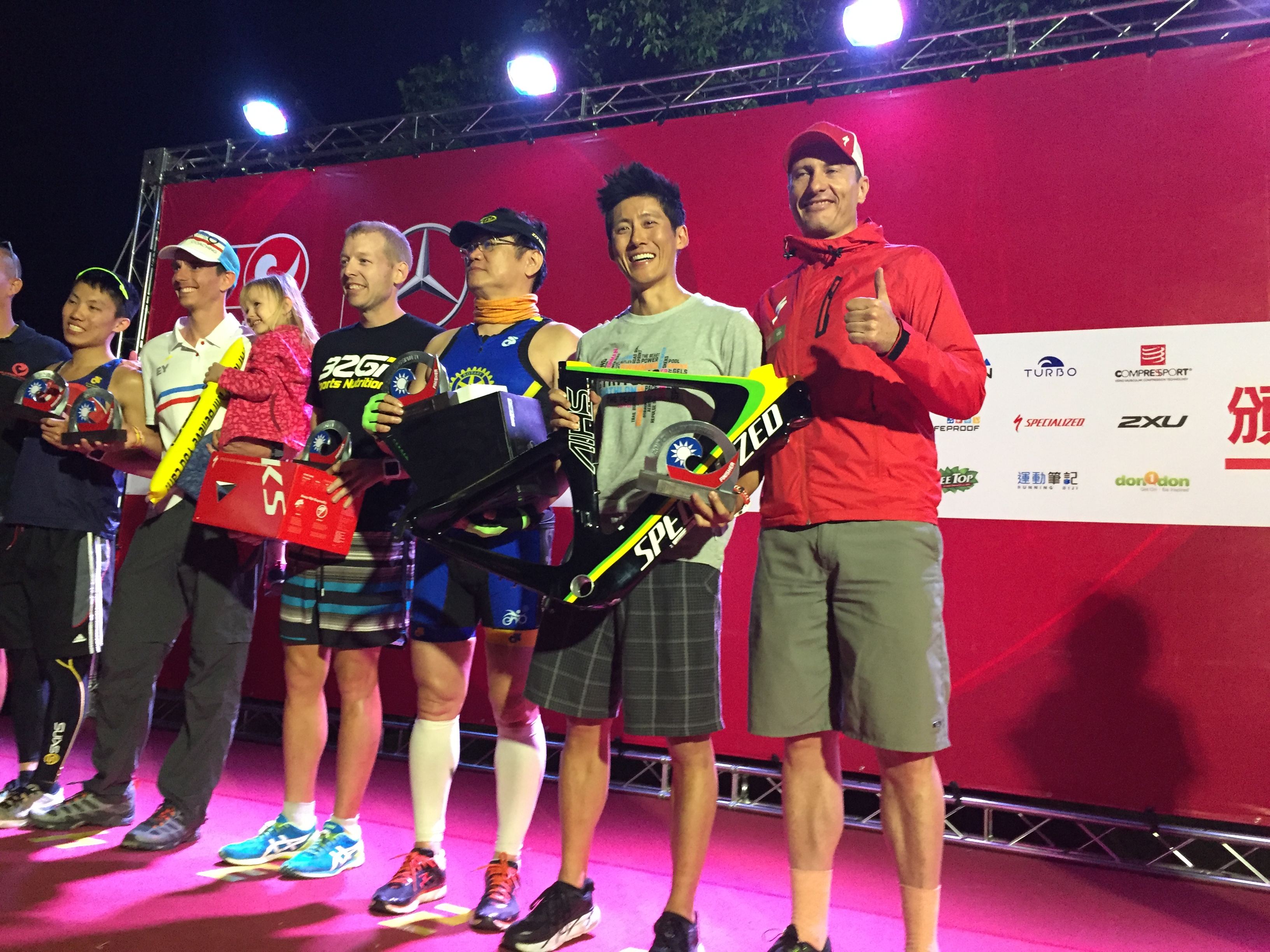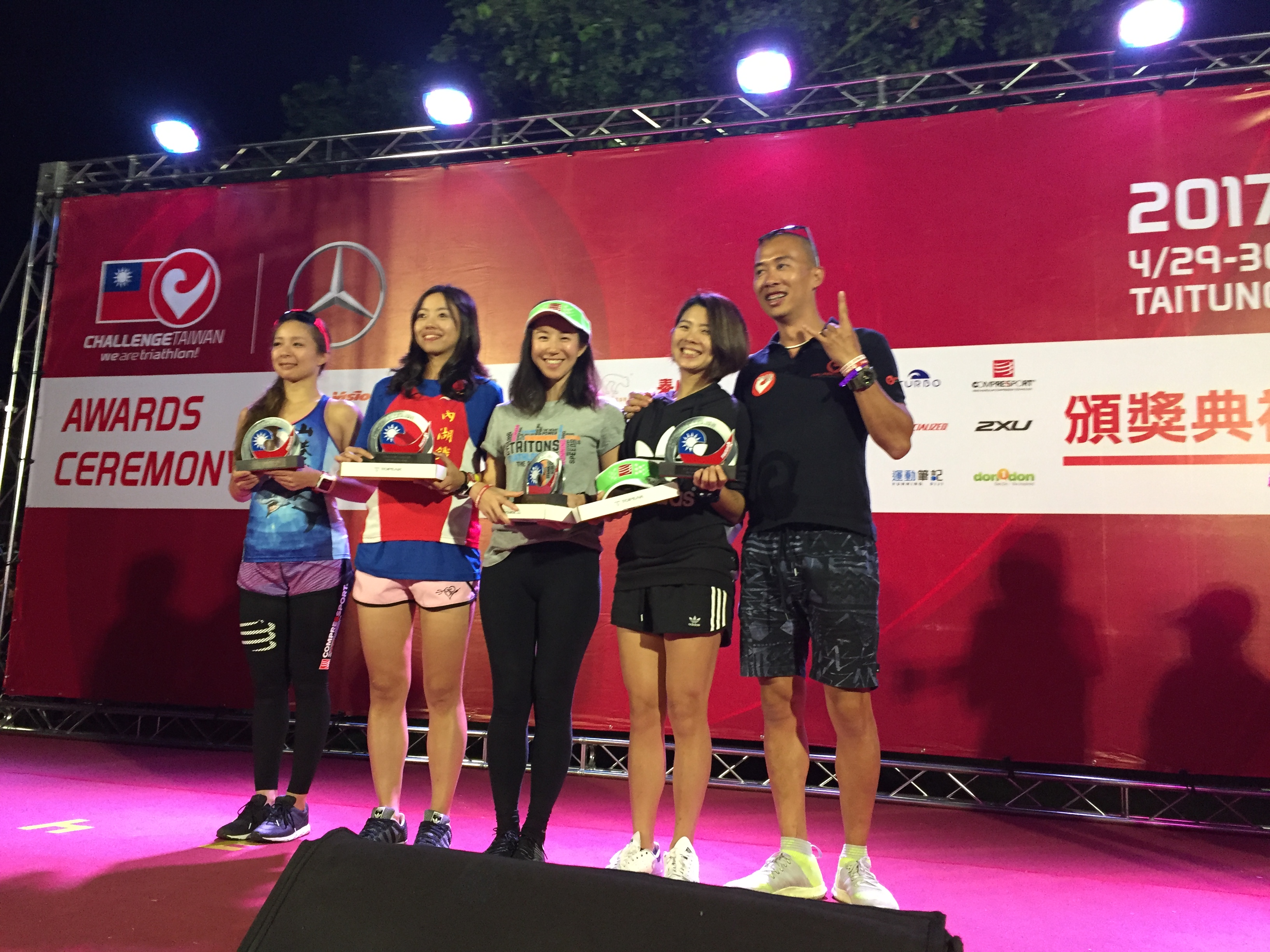 Everyone woke up at the crack of dawn again the next day, to cheer on the Olympic distance and tri-kids races. Saturday's overcast sky was replaced with bliste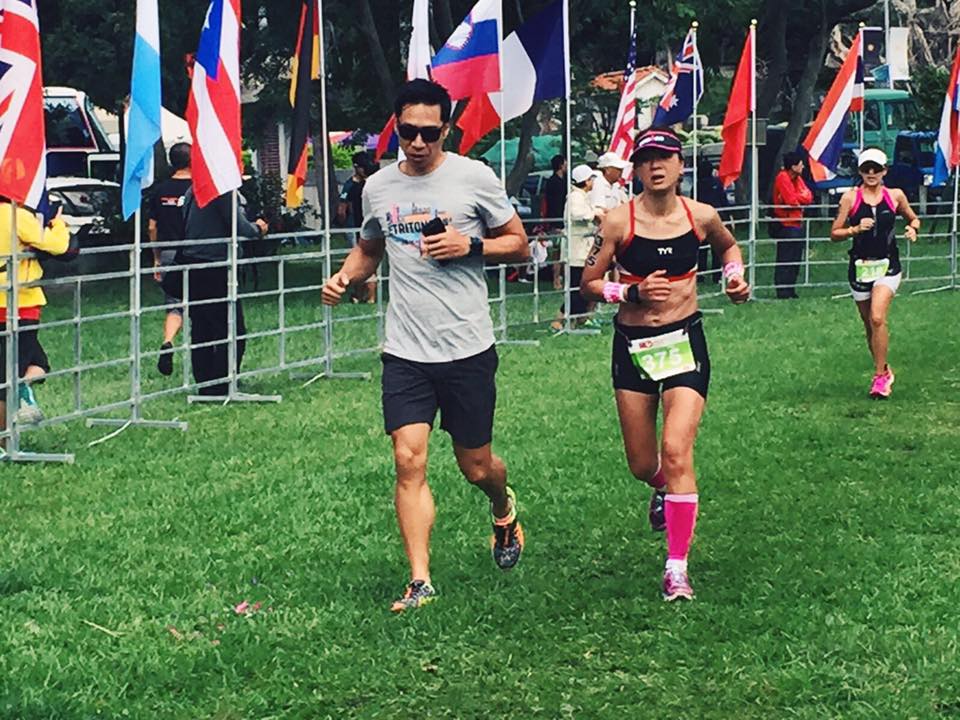 Lucina put her Swim Lab Asia and hubby-stroke-coach training to the test. We shuttled from one race location to another, based on Stu's race time estimates, and each time nearly missing Lucina as she biked/ran by faster than anticipated! Lucina picked up more hardware for the Tritons finishing 2nd in AG for her first ever triathlon! After she crossed the line, the first thought on all our minds was "Awesome! When are you going to do your first 70.3?"