My rookie journey -
Why triathlon? Many people have told me that as I can swim and run, I should really give triathlon a try.
Background: I learned to swim when I was little. Started running training 2.5 years ago (took a 9 month break last year) and only started bike training about a year ago.
Preparation for recent races: Being new to triathlon and doing all three disciplines, I wanted to build a strong base and focus on technique rather than power output or time on the clock at this stage. In my swim, I just try to be consistent with my training. However, growing up on HK Island, I had never been given the chance to a bike when I was younger and needed to start from scratch. With this is mind, my focus this year has very much been on building endurance, strength and proficiency. With the run, I really focused on getting used to running off the bike. With a full-time job, my typical training week in the run up to these events included 2-3 swim, bike and run sessions per week.
Goals: I had very little performance expectations other than to finish the races safely and have a nice photo to show for my efforts!
Port Dickson Triathlon (Malaysia):
I signed up for two races on the same weekend. Saturday was Sprint Distance and Sunday was Olympics Distance respectively. I arrived at 5pm on Friday at the hotel so didn't have time to check out the course in advance. The venue was beautiful, the transition area was conveniently only 2 minutes away from the hotel and the hotel had great ice cream. I was happy and ready to go.
Unfortunately, it was raining on Race Day One and the water was shallow and choppy. During warm up, my new googles broke so I used my old googles during race, but they fogged up quickly. I had to stop a couple times to see where I was heading and ending up exiting the water in 6th place, over one minute behind the three Malaysian national squad members, and missed the pack. I biked hard but wasn't able to close the gap but to no avail and entered T2 about two minutes behind the leaders in 4th place. Part of the run was off road and at 4km into the run, I was encouraged as I caught one girl and crossed the finish line third female overall (1:07).
On Day Two saw me wake up with tired legs from yesterday's racing and more daunting, this was to be my first ever Olympic Distance triathlon. Nonetheless, I was still excited to see how I perform under less than perfect condition and kept a positive attitude to just give it a go. My swim was much better having bought a new pair of googles, this saw me coming out water first. I biked conservatively and then focused on my own pace during the run, finishing first female overall (2:17).
Overall, the race was very well organized and beginner friendly.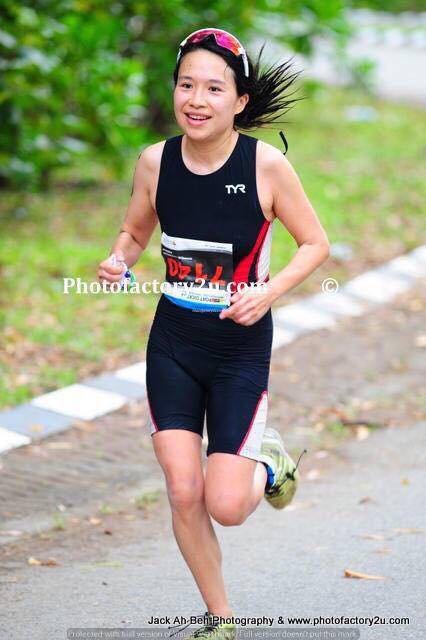 Festival of Sports Triathlon (Hong Kong):
Two weeks later, I took part in my second ever Olympic distance race. I started with other females and 50+ yrs. Men's group, starting 10 minutes behind the elite start. It was an open water start, which I like. I exited the water first, but felt quite tired. The bike was 4 laps and again I rode conservatively the first lap, trying to lower my heart rate and spot where my competitors were. I picked up the pace the second lap and caught up to a guy in 3rd lap and we worked together rest of the bike leg. I got off the bike and ran my own race. I tried to maintain pace, but began to slow after 6km. Felt lucky to be able to finish first female overall (2:25) and very happy to see many Tritons also doing well and making the podium too!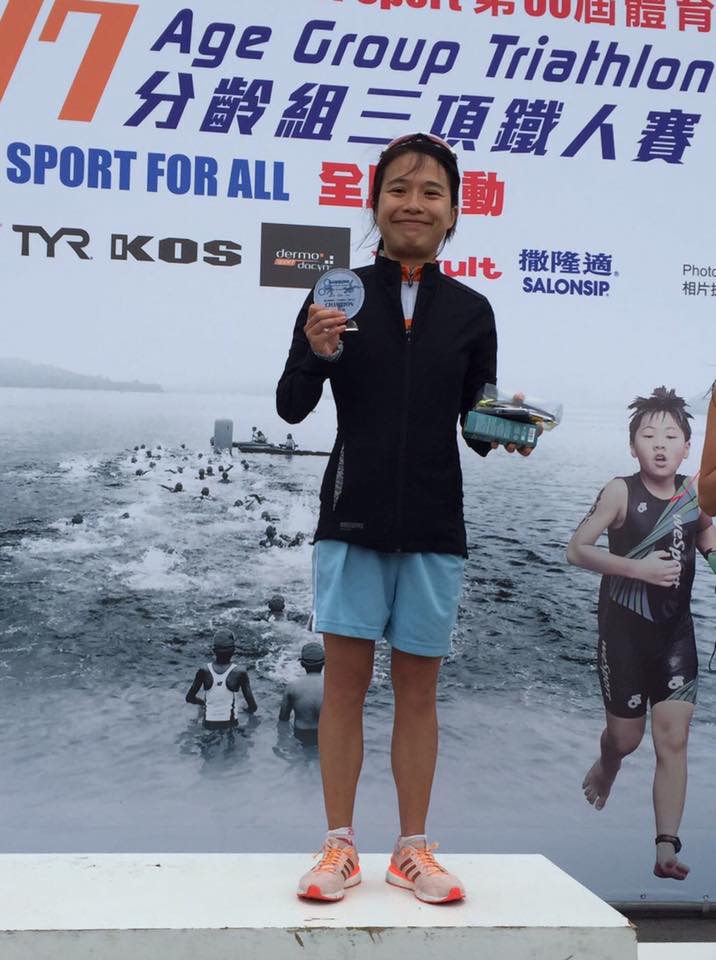 Most Memorable Moment:
I had a lot of trouble packing my bike the night before departure to Malaysia. Panic. Thankfully a few Tritons called and came to the rescue! Thank you all!
Post race thoughts:
As a beginner, I didn't know what to expect and wasn't sure whether I should be happy with my result or not (Fen said I should be happy as I wasn't too much slower than the elite pack in Malaysia given it was my first international race). Most of all, I am thankful for having a healthy body allowing me to finish triathlon races. I am also grateful to be surrounded by Tritons coaches and teammates who make me better triathlete and a better person. They make the triathlon journey fun. I would especially like to thank swim coaches AM and Fen for getting me swim ready. I was not under pressure during my bike and run leg because of my swim. I still have a lot to learn in this sports, and am looking forward to it. Onwards and upwards whilst enjoying the ride.