This is what Thanyapura Health and Sports Resort should display on the main gate of their facility. It's not just about training but also about their impeccable facilities, their helpful staff and level of the coach team, the great food and the peaceful and quiet resort atmosphere.
Early 2017 some of us started talking about a training camp during the year. I happened to be in that first round of conversation with Captain Stu, and the idea of Thanyapura came up. I had been wanting to go to that camp for the past 2 years, once with Lars (ex Tritons), once with Jean-Louis (Mr Accuwear) but it did not happen. The climbing training for Himlung in Nepal, Alaska Glacier and Alaska Denali expedition this year and long weeks out got in the way and Thanyapura became a distant bucket list item.
But this year, thanks to Stuart and a small bunch of determined Tritons, we made it happen. Stuart took the baton of organisation to make sure we would have a camp scheduled. We talked options: Z coaching with Jurgen Zack or Thanyapura. The vote on this occasion went in favour of Thanyapura. Lots of us signed up on the original excel spreadsheet, I think over 20 according to Stu but the following months, life, injuries and work 'got in the way of Triathlon' and only 8 of us remained on the roster.
Lisa, Michelle, Sarah, Stuart, Vincent, Marc, Federico and I headed to Thanyapura the last week of June.
To sum up the week in a few lines: great training, tasty protein shakes (do order the Daniel Special), excursion around Phuket with Sarah on scooter, runs in the local rubber plantation forest, swims in the glorious 50m pool and long rides, one of them to the famous 'bakery' which incidentally does not resemble a French bakery for a Frenchman who likes his bread - so do not expect a croissant and espresso. Nonetheless it is still a very welcome stop after 55km at tempo riding! Guess who came last to the bakery...me, only to find out that there were no croissants, pain au chocolat, chausson aux pommes, pain au lait, nor brioche available ;)
In a more triathlon focused description here is how the week went down: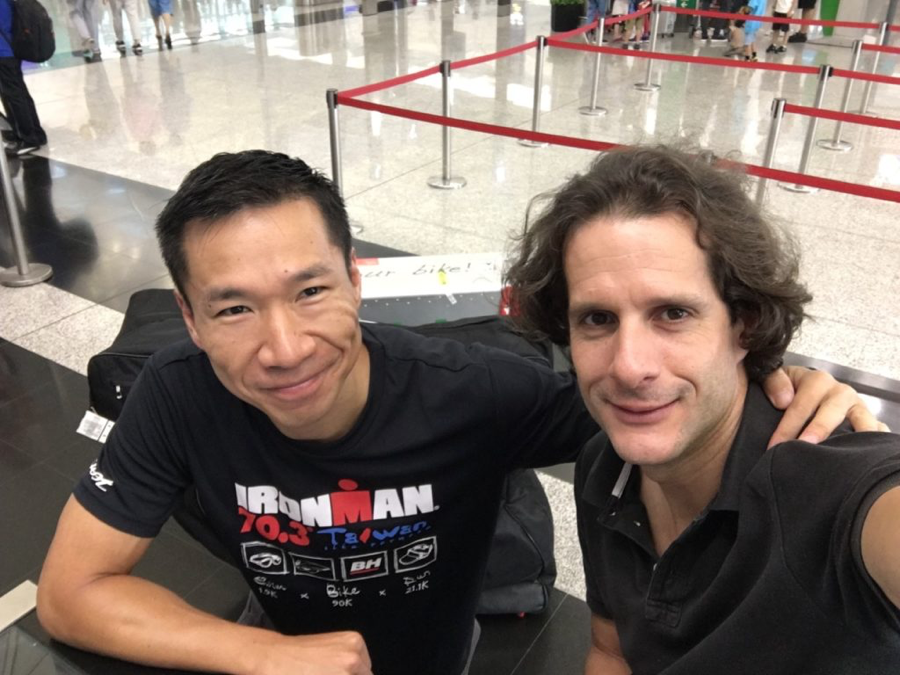 Friday 30 June:
Stu and I get on the plane to Phuket. Sarah meets us at the airport, she has just landed from Singapore. Vinny is already there teasing us with pictures of palm trees, blue pool and lounging chairs. A quick check in, then lunch, and soon it is already time to put on our jammers for our first session of the stay.
4pm-5pm
Coach: Tom
Training: 200m warm up, then sets of drills, then 50m fast 50 easy.
It's a good session but AM/Fen would have said 'way too easy for you guys'.
The swim set Thanyapura was something like this: 5x50m
Fen's Swim Lab whiteboard would have had a little extra tweaking on it, perhaps adding a '10' and a bracket for: 10 (5x50)
For some reason none of us complained...
Lisa and Michelle arrive in the afternoon. Did they miss the swim on purpose?
All except Fed are now here. Fed got caught up in a last minute meeting in HK so arrives tomorrow to join us.
Vinny dives like a pro
Testing the underwater camera - Ben & Marc
Saturday 1 July
Morning bike ride: awesome Time Trial training in the rubber plantation 10k away from tht Thanyapura campus.
About the Coach: Daniel Comby. Genuinely nice guy, strong rider ex-motocross professional rider, comes from Sweden, in Thailand for 18 years, speaks Thai fluently, great guy, head of Thanyapura cycling program. Go ride with him, he is fast but will wait for slower riders like me and push us within reason. He is caring, patient and clear in his explanations or remarks on position, cadence and power.
Training:
- warm up to plantation
- TT Road discovery clockwise and anti-clockwise. Quiet road in the trees, a bit wet when we arrived. Need to be careful.
- Set: 4 rounds of the 5km TT, with reverse course for cool down before the next TT
- First: 80% of max
- Second: 100%
- Third: big gear all out
- Fourth: spinning at 90-100 cadence
The field of riders is diverse, some strong ones, a good crew, great atmosphere.
Off the bike run:
Marc and Vinny go for a 10km. I go for a 7km run and Stu goes for a 3k.
Good pace, very hot though
Afternoon swim was with Spanish coach David Ballesteros. We do some fun drills which consist in turning / rotating 360 under water after each 3 strokes. Not easy but good balance practice.
Sunday 2 July
Big day today, off for 110km ride to mainland Thailand crossing the Sarasin Bridge. The ride is beautiful and fast paced. Done in a 2 abreast riding formation, and thank god for drafting as the speed averages 35 with a few stretches at over 40km/h. Very nice twisty roads by the sea. This is just an amazing ride, no traffic lights for 55k straight, Yes it's possible outside of HK!
With a 30' stop at the Bakery. We run into Jurgen Zack and a huge group of his riders on the way out. He recognises the HK Tritons, we are famous in Thailand and in Phuket!
On the way back, a more spirited 55km. After the bridge and checkpoint to Phuket island, I am totally dropped by the group as Stu, Fed, Marc and Vinny all disappear in the distance with Daniel leading pushing some serious power on their TT bikes. Final regroup at the PT gas station and the final 5km all together back to base.
Some of us follow this by more riding, or running. I am clearly done for the day. The afternoon is reserved for Phuket cruising with Sarah on the scooter, finding the remote beach. Great scooter riding in the hills, swim in red flagged beach. No wonder no one is swimming there, rip currents are clearly identifiable. A 2 hour massage in Laguna Phuket awaits at Oasis spa and ride back at night to Thanyapura. A wonderful little side escape from camp.
Monday 3 July
Morning recovery swim with Tom
Fun Tritons picture session, underwater.
Run
Sarah and I go for a 7km morning run. Just before the run a girl at the front desk warns us against stray dogs, she says 'if they attack you do not run and stand your ground' nice way to start a run - And with Marc's information that Thai dogs are locally seen as reincarnated criminals, we feel just great. I run most of the way with a stick in my hand, just in case.
No bike today.
Afternoon track session.
Good warm up drills at the 500m Thanyapura track followed by a 4km run outside. Pace is fast and furious, the front guys running at 350 pace, whilst Stu and I settle for a 410-430 pace back to base. I rush to the shower and make my way out with Sarah to drop her at the airport.
Tuesday 4 July
Cycling: Morning 106km ride. This one is even more spirited and takes us through great scenery, lots of hills and fast downhills. Valve issue in the middle of the ride, tire was losing pressure but fixed with Fed's help. A good lesson on having the right tools on a ride.
Vinny and Marc keep going for an additional few km. Lisa and Michelle went for a beautiful local ride and put in a good 50km.
Fed, Stu and I go for the cold bath and warm jacuzzi leg treatment. It's amazing how much this helps with recovery after a tough session.
Afternoon swim
Can't remember the set, but a good swim nonetheless.
Wednesday 5 July
Last day at Thanyapura for most of us. Only Fed will stay one more day.
Cycling:
830am: indoor Computrainer. Functional Threshold Power session
15 min warm up
4x2' at 120% of FTP with 4' recovery
10' recovery
10x 30" max power and 30" recovery
Awesome set, Daniel motivating us in the background, looking at the numbers. All of us are taking part - except for Marc who has decided to do a race simulation with a 120km ride on the road, followed by a long swim and a long run on his last day, good job.
For the rest of us, the Computrainer session is followed by a recovery ride in the nearby hills to the pier and back. Beautiful ride and nice easy pace.
Cold bath treatment, followed by packing. I even manage to squeeze a last 5k run just before leaving to the airport.
At 4pm Lisa, Michelle, Stu, Vinny, Marc and I are boarding the hotel vans for the airport. We are already keen to plan the next training camp. This one was fabulous, our group was awesome, everyone was keen, motivated, fun and nice.
The service at Thanyapura was stellar. Jay and Marco at the front desk team call you by your name as you walk in the first day and can help you sort out anything you need, SIM Card, scooter, food, tips, restaurant bookings. Their level of service is better than most hotels I have stayed in over the past few years. The food is great, the raw menu was well crafted, tasty and dishes were filling. It was my first try at raw food and loved it. Their juices, smoothies, recovery shakes are great. The buffet food was more average so it was better go for the à la carte.
Overall, a perfect experience. Thanks to all of you guys: Lisa, Michelle, Sarah, Stu, Fed, Marc, Vinny for always smiling, helping and keen to train at any time. We were a very good Tritons group.