A great job by all the Tritons, the Swim Labbers and of course all the folks who supported the Splashers at this event. A big shout out also to the organizing committee for yet another good race event. Bravo. Below is Michael Tsangs race report, it's his first Clean/Cold Half Solo attempt, finishing in a very respectable 5hr 14mins, in the non-wetsuit category.
I have completed Cold Half on Sunday, which has become my second marathon swimming race. Here's the race report.
Race information
Name: Cold Half
Date: 2020-01-19
Place: Hong Kong (Stanley ➡️ Deep Water Bay, via To Tei Wan, around Stanley Peninsula, round Round Island and Middle Island)
Distance: 15 km as claimed by the organiser (13.8 km as measured on Google satellite image)
Live tracking: http://live.dottrack.asia/coldhalf2020/
Result: 05:14:26
Rank: 6/6 in category, 11/13 in non-wetsuit, 15/17 overall (1 DNF)
Race condition
Air temperature: 17 – 20°C
Water temperature: 19 – 20°C
Wind: BF 3 at the beginning, BF 0 at the end
Goals
| Goal | Description | Completed |
| --- | --- | --- |
| A | Complete in 5 hours | No |
| B | Complete in 5.5 hours | Yes |
| C | Complete without being the last place among non-wetsuit swimmers | Yes |
| D | Complete without being cut off | Yes |
Race plan
My support paddler was Gary Lui, who gave me a few lessons early last year to improve my form and we practised together about my feeding in spring last year. We also did the Clean Half last year in a relay, switching every 30 minutes with the exact same course and we completed in 06:24:06, therefore we were familiar with the course already.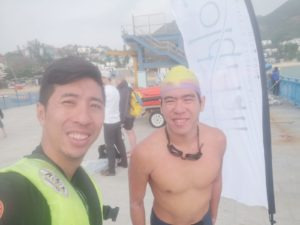 After checking the marine current forecast, the current would be with us most of the time, so I predicted my best possible scenario to be the following, with about 5 hours finish time.
Turning point
Place
Distance (km)
ETA
Actual split time from live tracking
Start
Stanley
0.0
10:00
10:07:03
1
To Tei Wan
2.0
10:52
10:54:29
2
Tai Tam Tau
5.4
12:03
12:08:17
3
SW of Round Island
10.1
13:28
13:44:23
NW of Round Island
10.5
13:34
4
W of Middle Island
12.5
14:22
14:47:29
Finish
Deep Water Bay
13.8
14:56
15:21:29
My feeding plan was to take a feed of about 600 mL of Lucozade every about 50 minutes, therefore if I went well according to the above scenario, my feeding points would be:
10:50 at To Tei Wan
11:40 at about 2/3 of the way from To Tei Wan to Tai Tam Tau
12:30 at about 1/3 of the way from Tai Tam Tau to Round Island
13:20 nearly arriving Round Island
14:10 at about 3/4 of the way from Round Island to Middle Island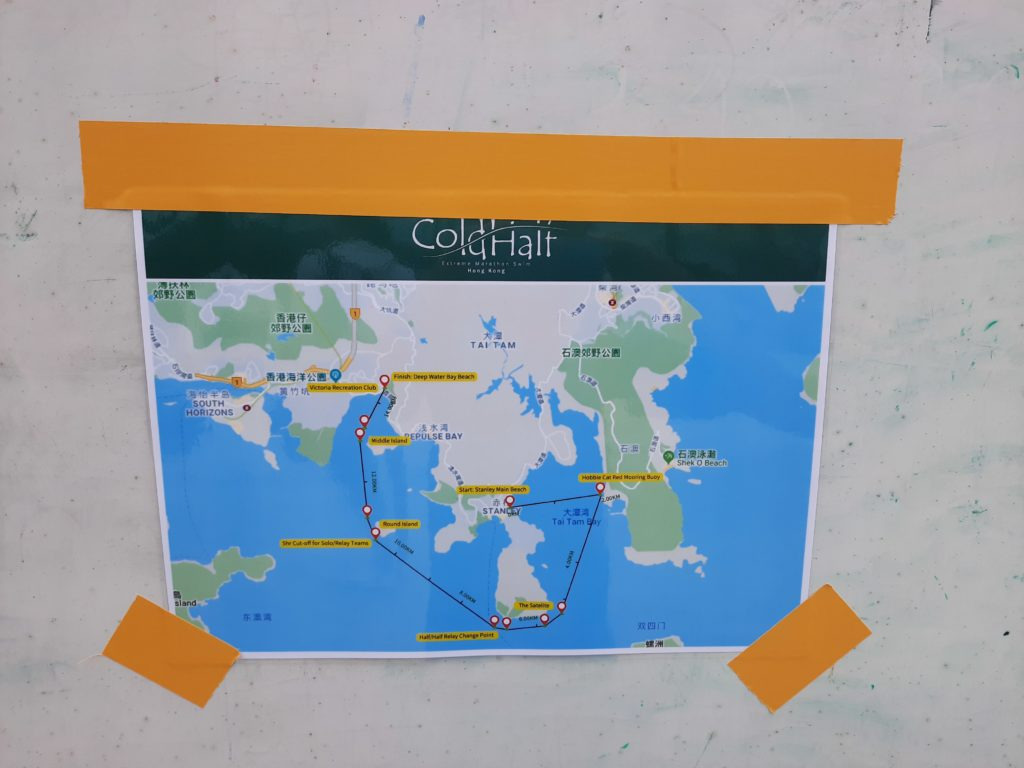 Moreover, among the competitors, I knew that Alan Boydell was about the same speed of me, so in case if we met, I would try to stay together if possible. However, nearly all the other people were much faster than me so I wouldn't try to catch up them in the race.
Pre-race
I took a complete rest from Thursday onwards after I swam on Tuesday and ran on Wednesday, which meant I skipped the OW group swim on Saturday as well. On Saturday I slept till noon to compensate my missing sleep thorough the week. All I did on Saturday was to have lunch, then to go to the supermarket, and to have dinner.
I chose to start at 10:00 because I was a slow swimmer and expected nearly 6 hours to finish the race. The registration started at 09:00. I took the usual combination of buses, 171 then 73, from my home to Stanley and arrived there at about 09:00. My support paddler, Gary Lui, arrived at about 09:30.
I believed that the race would be an easy race because it was not cold, it was not rough and the current was with us, not much different from my first race in a lake in terms of temperature and water condition apart from the current.
There was a reporter from a foreign television channel who interviewed some of the well-known swimmers doing the race, including Simon Holliday and Edie Hu.
The race
Start to To Tei Wan
The race started at 10:07:03. The wind was BF 3, which meant the sea was a bit choppy but not too much to the extent of whitecaps. We aimed at the top of the hill at the opposite shore for a red buoy near To Tei Wan, which was the first turning point. I aimed there well and rounded the red buoy tightly slightly faster than predicted.
To Tei Wan to Tai Tam Tau
A few minutes after I rounded the first buoy, about 2.2 km from the start, I took my first feed at 10:55. Then we headed straight to Tai Tam Tau. I was staying with Leo Chan for a significant portion on this leg, however Leo Chan was much faster than me, so I didn't try to catch up him and stayed on my own pace. I took my second feed at 11:45 at 4.5 km estimated. The waves started to become larger from there, and as I approach Tai Tam Tau (nicknamed "The Wall"), I started riding on the waves.
Tai Tam Tau to Round Island
I took my third feed at 12:35 at about 7 km. At that moment the sea ceased to be choppy. From that moment Leo finally left me behind. Just after that feed I got a mild jellyfish sting in my face, and I started to feel fatigue on my back. I took my fourth feed at 13:25 at about 9.5 km, and the pain caused by the jellyfish sting disappeared by that moment. The next way point would be Round Island at 10.3 km, as my fatigue on my back built up, I started to become impatient and I felt that part taking me so long.
Round Island to Middle Island
The segment along the coast of Round Island was about 0.4 km, which should take me about 9 – 10 minutes to pass under normal circumstances. However, I felt that it took me much longer because my back was so fatigued after 10 km of swimming and desperately hoping to finish ASAP, but I still had about 3.5 km to go which would took me about 80 minutes. I took my fifth feed at 14:15, at about 11.8 km, 2/3 of the way from Round Island to Middle Island. I hoped that would be my last feed, and if I could reach the tip of Middle Island (12.5 km, 1.3 km from finish) within 20 minutes (i.e. 14:35) I would be able to reach the finish at 15:05, 5 hours from start. However because the distance stated above was just a gross estimation, I never knew if it was really only 0.7 km from the feeding point which I would be able to make it within 20 minutes. I just hoped that I could reach it within 20 minutes, and as I was so damn fatigued already, I was just counting the km, half by half, in my mind, but that estimation of 20 minutes took me a really long time. (after I checked the split time, I found out that we was actually against the current at that time, but we could never knew that in the race.)
Middle Island to finish
When I passed the tip of Middle Island I asked the time. It was 14:50 already (I hoped for 14:35), which meant that I would not finish within 5 hours as I still had 1.3 km to go, which should took me half an hour. At that time I was farting a lot, possibly because of the ocean I swallowed in the previous part of the race caused some reaction in my intestine. Despite the extreme fatigued I felt stronger and stronger as I was approaching the finish to end my suffering. I needed to take my 6th feed, which was my final feed, at about 13 km. I reached the finish at 15:21, with official time 05:14:26. At that time everyone I knew was already on the beach. I was a bit disappointed not making my 5-hour target, and I was not happy because the final few km was a suffering for me, which I only made it up using my mind, and I thought that I couldn't have an additional 7 km on top of this distance (as I planned to do a 21 km race in the coming summer), which is explained in detail below.
Post-race
After the race I really needed a rest on the beach. I sat on the beach for some time before I went into VRC for the post-race party. Originally Gary thought that he would be leaving immediately as well, but because I finished a bit early so he also came to the post-race party as well. I also got some sore throat due to the ocean I swallowed in the race, so I didn't eat much in the party, and I had to drink a lot of water.
I had completed my second marathon swimming race.
I didn't get a podium place as I ended up being 6/6 in my category (male non-wetsuit). However, I can proudly call myself a marathon swimmer.